NCAAF
2022-23 Coaching Carousel updates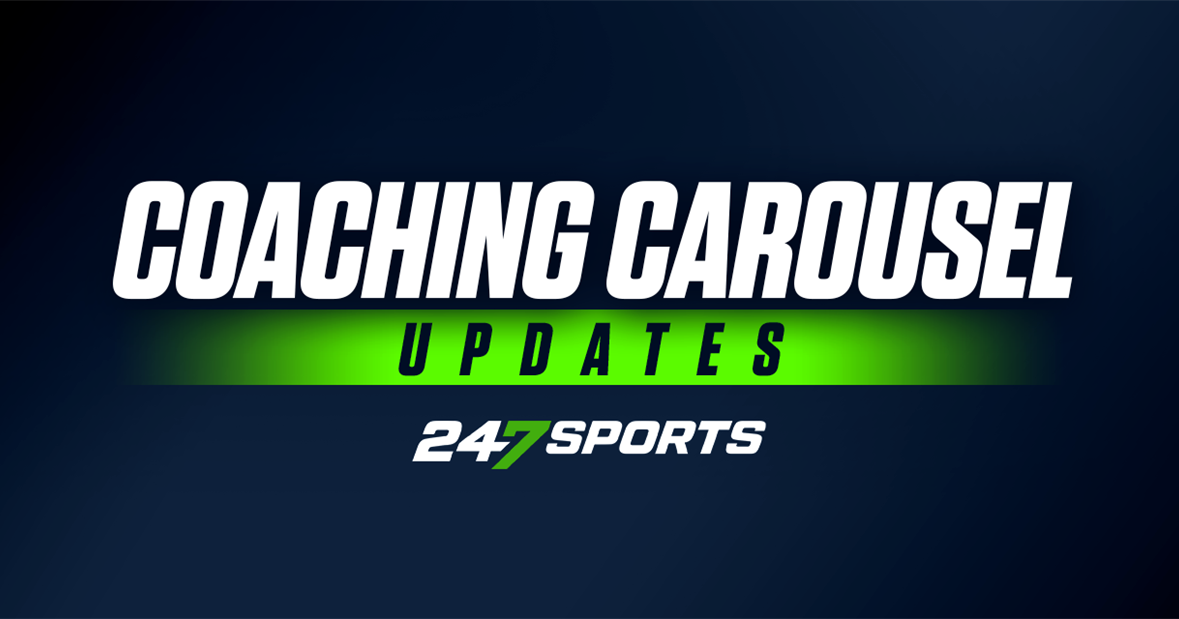 Change in college football is happening fast and furious, and never before has the coaching carousel started as early as in 2022.
The early turnover in college football this season (and 2021) has been wild and while each program has its own issues and nuances, the common motif is the transfer portal and the early signing period.
CONNECTED: Exploring the advantages and disadvantages of an early coach change.
So much is at stake, and with record-breaking Big Ten media deals (over $1 billion a year), conference reshuffling shaking the landscape again, and college football playoff expansion in 2024, the need for fresh attitudes and aggressive actions. hiring and firing practices are at an all-time high. Twenty Power Five programs (plus Notre Dame) have changed head coaches since 2021, generating an incredible 30.8% turnover among the highest paid jobs in the sport. Get ready for another record-breaking year on the coaching carousel.
Live updates from the carousel as well as hot board candidates taken from 247Sports industry sources can be found below.
Live updates
February 13
Texas A&M/Ole Miss: Texas A&M invaded Ole Miss to hire a new running coach. Markel Blackwell he is expected to join Aggie's coaching staff, according to GigEm247.
Kansas State / USF: Kansas State decided to hire Matthew Middleton as a receivers coach, according to several reports. He was hired by USF in January after serving five seasons as a receiver coach at Kent State.
Akron: Akron Head Coach Joe Moorhead gets a new contract after some interest from Power Five programs as an offensive coordinator, according to ESPN's Pete Thamel. Meanwhile, the New Hampshire defensive line coach Read Wortham-White joins the staff in the same capacity, says Thamel.
Tulane: Tulane hired Dan Rushar as an offensive line coach. Rushar is a longtime college and NFL assistant coach with 35 years of experience as an offensive line coach and title coach. He last coached the New Orleans Saints tight ends in 2022.
Georgia Institute of Technology: coordinator of special groups of the FIU Ricky Brumfield was hired for the same position at the Georgia Institute of Technology, a source told 247Sports.
12th of February
Our Lady: Veteran offensive line coach Harry Hystand announced his retirement from coaching on Sunday, leaving Notre Dame with a big vacancy as he also looks for a new offensive coordinator. Hystand retired to spend more time with his family, having spent the past 40 years as an assistant coach at the college and NFL levels.
11 February
Miami/South Alabama: Coordinator of the offensive in South Alabama. Major Applewhite He is expected to interview in Miami today for a job with the Hurricanes, according to InsideTheU 247Sports.
Indiana/Tulsa: Indiana hired Matt Warriors as a defensive coordinator and safety coach, according to Peegs.com. Guerrieri was an analyst at Ohio State last season and was hired by Tulsa in January as defensive coordinator. Instead, he will return to the Big Ten.
February 10
Notre Dame/Utah: Notre Dame to meet Utah offensive coordinator Andy Ludwig in South Bend, Indiana, according to ESPN's Heather Dinich. Ludwig is the main target for the Irish for the post of manager.
February 7
Marshall/Georgia Tech: Marshall Hired Georgia Tech Security Coach Jason Semore as a defense coordinator, according to multiple reports. Semor was previously the coordinator in 2021 in Valdosta State, which qualified for the Division II national championship game.
Temple: Temple hires Indianapolis Colts assistant coach Jamel Mutunga as a running coach. He was one of the first Colts diversity coaches for Tony Dungy for the 2022 season.
Miami/Tulane: Miami is in the process of hiring defense coordinator Tulane Lance Guidry, – says the source of 247Sports.. Guidry was recruited on 17 January at Tulane after a successful stint at Marshall where the Thunder Herd ranked in the top 20 in the nation in 15 defensive categories and had the second most stoppages.
San Diego State: Former running coach from Stanford. Ronnie Gould was hired to the same position in the state of San Diego.
February 6
Arizona: Arizona hires former Washington State cornerback coach John Richardson to the same position, according to numerous reports.
Oregon: Oregon offensive line coach Adrian Klemm According to multiple reports, he is expected to join the New England Patriots as an assistant coach.
training carousel
Akron
In: Billy Fessler, offensive coordinator (Akron, quarterbacks); Neem Wortham-White, defensive line (New Hampshire, defensive line)
Alabama
In: Austin Armstrong, inside linebackers (Miss South, defensive coordinator); Tommy Rees, Offensive Coordinator (Notre Dame, Offensive Coordinator); Kevin Steele, defensive coordinator (Miami, defensive coordinator)
Out: Pete Golding, defensive coordinator (Ole Miss, defensive coordinator); Charles Kelly, Security (Colorado, Defense Coordinator); Bill O'Brien, offensive coordinator (New England Patriots, offensive coordinator)
appalachian state
Q: Scott Sloan, Defense Coordinator (Army, Joint Defense and Security Coordinator); Mike Cummings, offensive line (Cincinnati, offensive line); Frank Ponce, offensive coordinator (Miami, quarterbacks); Victor Cabral, defensive line (South Georgia, defensive line); AJ Howard, TBD (New England Patriots, scout); Travis Cunningham, TBD (Western Kentucky, inside linebackers)
Out: Gip Wade, offensive line (Georgia Tech, offensive line); Kevin Barbey, Offensive Coordinator (Mississippi State, Offensive Coordinator)
Arizona
In: John Richardson, cornerback
Out: DeWayne Walker, cornerbacks (retired)
Arizona
IN: Kenny Dillingham, head coach (Oregon, offensive coordinator); Vince Amey, TBD (Idaho State, defensive tackle); Charlie Raglespecial teams (Idaho State, head coach); Bo Baldwinoffensive coordinator (Cal Poly, head coach); Brian Ward, Defense Coordinator (Washington State, Defense Coordinator); AJ Cooper, defensive line (Washington State, defensive line); Tuitele Saga, Offensive Line (Fresno State, Offensive Line); Brian Carrington, running back (TCU, attacking analyst); Ra'Shaad Samplers, receivers (Los Angeles Rams, running back); Jason Mons, tight ends (Saguaro School)
Outside: Herm Edwardshead coach (retired)
Arkansas
B: Morgan Turner, titles (Stanford, titles); Travis Williams, Defense Coordinator (UCF, Defense Coordinator); Marcus Woodson, quarterbacks (FL State, quarterbacks); Deron Wilson, Minor (Florida, Analyst); Dan Enos, Offensive Coordinator (Maryland, Offensive Coordinator)
Out: Barry Odom, defensive coordinator (UNLV, head coach); Dowell Loggaines, Tightlands (South Carolina, Offensive Coordinator); Michael Scherer, linebackers (UNLV, defensive coordinator); Dominic Bowman, defensemen (retired); Kendal Briles, offensive coordinator (TCU, offensive coordinator)
Arkansas
In: Logan Kilgore, tight ends (School Isidore Newman, offensive coordinator)
Out: Matt Limegrover, tight ends (Kent State, offensive line)
Army
Q: Drew Thatcher, Offensive Coordinator (Nebraska-Kearney, Offensive Coordinator); Darren Page, running back (Cincinnati, running back); Danny Verpaele, Security (Kennesaw State, Defense Coordinator)
Out: Brent Davis, offensive coordinator (fired); Jason Nichols, slotbacks (fired); Scott Sloan, Joint Defense and Security Coordinator (Appalachian State, Defense Coordinator)
Auburn
IN: Hugh Freesehead coach (Liberty, head coach); Jeremy Garrett, line of defense (Freedom, line of defense); Ben Aigamaua, tight ends (Liberty, tight ends); Jake Thornton, attack line (Ole Miss, attack line); Wes McGriff, secondary coach (Louisville, secondary coach); Ron Roberts, defensive coordinator (Baylor, defensive coordinator); Philip Montgomery, offensive coordinator (Tulsa, head coach); Josh Aldridge, midfielders (Liberty, midfielders); Marcus Davis, receivers (Georgia South, receivers)
Outside: Brian Harshead coach (fired); Eric Kisauoffensive coordinator (fired); Brad Bedelltight ends (burnt); Jeff Schmedding, defense coordinator (fired); Christian Robinson, midfielders (sacked); Jeff Schmedding, Defense Coordinator (Washington State, Defense Coordinator)
Ball condition
Out: Adam Morris, defensive line (Eastern Illinois, defensive line); Cedric Cormier, receivers (Houston Christian University, receivers)
Baylor
Q: Matt Pauledge, Defense and Safety Coordinator (Oregon, Joint Defense Coordinator); Christian Robinson, inside linebackers (Auburn, linebackers); AJ Steward, running back (Oregon, running back); Tyler Hancock, Special Groups Coordinator (Charlotte, Special Groups Coordinator)
Outside: Ron Robertsdefense coordinator (fired); Ronnie Wheat, fuses (fired); Justin Johnson, running back (Texas Tech, receivers)
Boise State
In: Bush Hamdan, offensive coordinator (Missouri, quarterbacks); Jabril Frazier, EDGE (Boise State, PhD student); James Montgomery, running back (Fresno State, running back)
Out: Keith Bhonafah, running backs (Oregon State, running backs); Tim Plough, offensive coordinator (fired)
Boston College
Out: John McNulty, offensive coordinator (fired); Dave DeGuglielmo, offensive line (fired)
Bowling Green
Came: Derrick Jackson, defensemen (Northern Illinois, joint defense coordinator); Steve Morrison, Defensive Coordinator (Bowling Green, Linebackers)
Out: Eric Lewis, defensive coordinator (Navy, secondary)
Buffalo
In: Holman Copeland, cornerback (Delaware, cornerback); Robert Wright, special teams (Duke, analyst); DJ Mangas, offensive coordinator (UCF, analyst); Brian Applewhite, running back (Nebraska, running back)
Out: Rod Ojong, defensemen (Charlotte, defensemen)
BYU
In: Jay Hill, defensive coordinator (Weber State, head coach); Justin Ena, linebackers (San Diego State, defensive line); Sione Po'uha, protective gear; Kelly Poppinga, Special Forces Coordinator (Boise State, Joint Special Forces and Territory)
Kal
In: Jake Spavital, offensive coordinator (Texas State, head coach); Mike Blosh…


Source: 247sports.com