NBA
2023 NBA All-Star Game Mock Draft: Predicting how LeBron James, Giannis Antetokounmpo fill out their rosters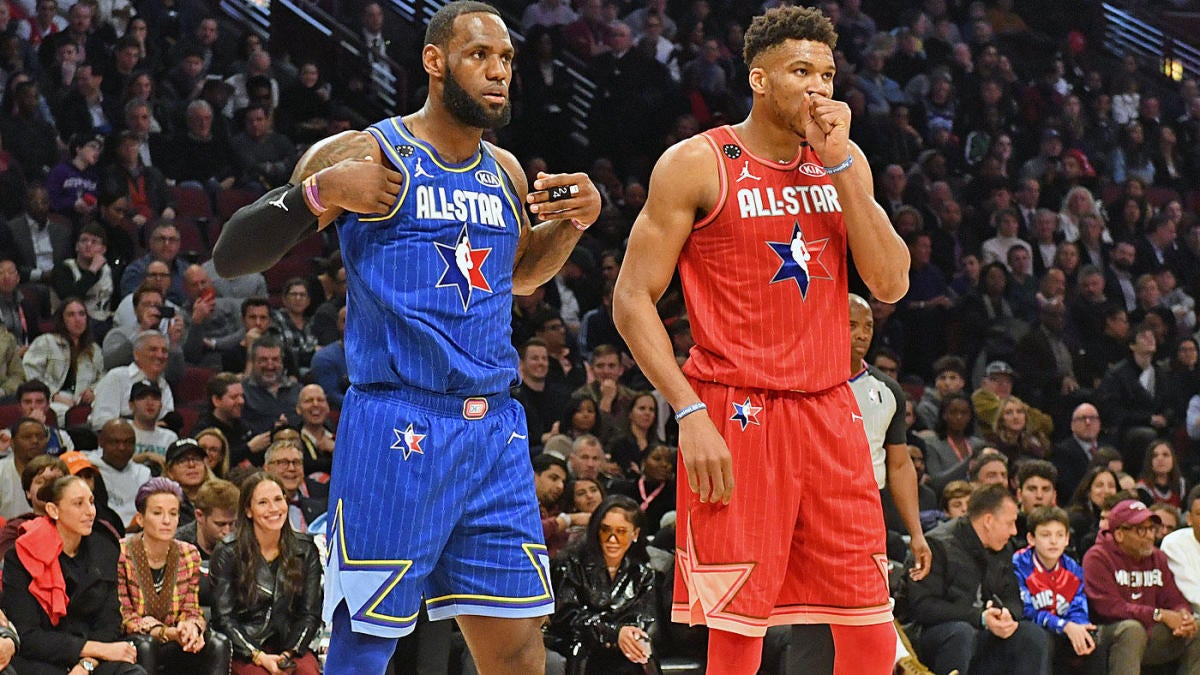 LeBron James has one of the greatest random streaks in sports history right now. The NBA introduced the All-Star Draft as an alternative to its old East vs. West format six years ago. James was elected captain in each of those six seasons. In the first five, the team he chose ended up winning the game. This season he will try to go 6-0.
Standing in his way is Milwaukee Bucks forward Giannis Antetokounmpo, who drafted James and lost in 2019 and 2020. Now he's hoping the third time will be charming, so to try and predict how the two captains will perform when all-Starry Sunday hits, CBS Sports is hosting a mock all-star draft.
James will be represented by local Lakers pundit Sam Quinn, while Antetokounmpo will be represented by Milwaukee pundit Jack Maloney. James, as the leader in total votes, will choose the starters first. Antetokounmpo will pick first with a reserve. Without further ado, let's dive in.
Snack
Pick #1 (Quinn/Team James): Kyrie Irving. In James's own words, "rigging rules don't apply on All-Star Weekend." Not only is Irving a former teammate of LeBron's, but a 2023 free agent who was reportedly interested in becoming the Lakers at the trade deadline. That trade did not materialize, but Los Angeles added several young players with expiring or insecure contracts that could be waived for Irving if necessary. James wouldn't be doing his duty as a Laker if he didn't use this weekend as an opportunity to hire a possible promotion as a free agent.
Pick #2 (Maloney/Team Antetokounmpo): Joel Embiid. The first two times Antetokounmpo captained the All-Star Game, he didn't wait long to pick Embiid. His "African Brother", as he called him, was his second pick in 2019 and first pick in 2020. The two big men have a fierce rivalry on the court, but they also clearly respect each other's abilities. The fact that Embiid is taking the tournament seriously – he's averaging 21.8 points and 10 rebounds on 58.6% shooting in games – certainly takes into account the hyper-competitive Antetokounmpo.
Pick #3 (Quinn/Team James): Jason Tatum. Let's approach the matter from a galactic perspective: with Antetokounmpo and Embiid on the same team, Giannis would definitely not take Nikola Jokic…right? This allows James to wait for his big man and reach out across the rivalry line to snatch Tatum out of Boston.
Pick #4 (Maloney/Team Antetokounmpo): Nikola Jokic. *Lee Corso voice* Not so fast, my friend! The Jokic triumvirate, Embiida and Antetokounmpo are the top three MVP contenders, and together they have made the big man the face of the NBA once again. What better way to reclaim your dominance over the rest of the league by teaming up and winning the All-Star Game together?
Pick #5 (Quinn/Team James): Donovan Mitchell. Well… our "wait for the big man" strategy seems to be backfiring. This leaves us with two viable ball handling options. James is a famous fan of Luka Doncic who once planned to launch Team LeBron, a subsidiary of Nike around him, but we're trying to isolate Irving from the Mavericks as much as possible, so instead we'll take this opportunity to play football with the Cavs before the 2024 free agency and grab Mitchell.
Pick #6 (Maloney/Team Antetokounmpo): Luka Doncic. While LeBron's team is worried about future free agents, Antetokounmpo's team is worried about winning. Here comes Doncic, the league's leading scorer and all-around offensive genius, who will join the top three big men in the world. The Antetokounmpo team now boasts three top scorers and four top MVP candidates.
Pick #7 (Quinn/Team James): Lauri Markkanen: We just need a tall man, so… good luck protecting Antetokounmpo, Embiid, and Jokic on duty, Lauri!
Pick #8 (Maloney/Team Antetokounmpo): Ja Morant. While this is the default choice, since Morant is the last remaining starter, the Grizzlies star is by no means a consolation prize. He will add much-needed speed and athleticism on the perimeter and is another talented playmaker.
reserves
Choose. No. 9 (Maloney/Team Antetokounmpo): Jrue Holiday. The easiest choice of the evening. Antetokounmpo will be delighted to team up with his Bucks teammate Holiday, who returned to the All-Star Game for the first time since 2013.
Choose. No. 10 (Quinn/Team James): Bam Adebayo. After what just happened in the first round, we're no longer waiting for a big player, so LeBron's team captured the best all-round center left on the board.
Pick #11 (Maloney/Team Antetokounmpo): Shai Gilgeus-Alexander. Having defended the frontcourt at the start of the first round, it's time for Antetokounmpo's team to continue strengthening the backcourt. Gilges-Alexander has been great this season, and now casual fans who don't watch Oklahoma City games will see his full arsenal of offensive moves.
Pick #12 (Quinn/Team James): Damian Lillard. Now that the roster is a bit more balanced, it's time for James to make some more changes. We know he once tried and failed to recruit Lillard, but hey, you never know for sure and this team could definitely use another ball carrier and scorer.
Pick #13 (Maloney/Team Antetokounmpo): Paul George. Antetokounmpo's team needs some extra flank power and extra punches, so George is a perfect fit.
Pick #14 (Quinn/Team James): Anthony Edwards. Okay, time to promote Klutch Sports. There are two Klatch clients left on the board of directors, so we're going to grab a freshman here at Edwards.
Pick #15 (Maloney/Team Antetokounmpo): Pascal Siakam. Another wing, another international star, and another player Antetokounmpo picked the last time he was an All-Star captain.
Pick #16 (Quinn/Team James): Jaren Jackson Jr.: Surprisingly, we seem to be closing the gap in defense despite Markkanen starting in the center. Jackson is a stealth option to complete this game due to his incredible defense, shooting, and the fact that he just can't get into trouble in the All-Star Game.
Pick #17 (Maloney/Team Antetokounmpo): DeMar DeRozan. The Bulls star has suffered a minor quadriceps injury so it remains to be seen how much he will play, but few players in the league can score like DeRozan and that's the name of the game at All-Star Weekend. .
Pick #18 (Quinn/Team James): Tyrese Haliburton: Now, this choice is a bit of a pickle. James would likely be tempted to take on De'Aaron Fox, Klatch's only remaining client on the board. However, we are already loaded down with small guards, so a slightly larger Tyrese Haliburton balances out the lineup a bit. More importantly, it gives James the opportunity to state that he always knew how special Haliburton was, and this absolutely what he would do.
Pick #19 (Maloney/Team Antetokounmpo): De'Aaron Fox. The Kings point guard is having the best season of his career and earned a well-deserved first All-Star appearance. He will increase the speed and athleticism in Team Antetokounmpo's backcourt.
Choose no. 20 (Quinn/Team James): Domantas Sabonis: We're in round-the-list territory right now, so we'll pair Halliburton with the player he was traded for, just for fun.
Pick #21 (Maloney/Team Antetokounmpo): Julius Randle. With all the defenders and flanks out after the first two picks, Team Antetokounmpo will grab Randle for some extra frontcourt depth.
Pick #22 (Quinn/Team James): Jaylen Brown: This final choice actually works well for us. We started the draft with two wings in James and Tatum, but haven't added anything since.
Final Trial Lineups
| | |
| --- | --- |
| Team James | Team Antetokounmpo |
| Kyrie Irving (starter) | Ja Morant (starter) |
| Donovan Mitchell (starter) | Luka Doncic (starter) |
| LeBron James (starter) | Giannis Antetokounmpo (starter) |
| Jason Tatum (starter) | Nikola Jokic (starter) |
| Lauri Markkanen (starter) | Joel Embiid (starter) |
| Bam Adebayo | Jrue Holiday |
| Damian Lillard | Shay Gilgeus-Alexander |
| Anthony Edwards | Paul George |
| The Jackson Jr. | sorry pascal |
| Tyrese Halliburton | DeMar DeRozan |
| Domantas Sabonis | De'Aaron Fox |
| Jaylen Brown | Julius Randle |


Source: www.cbssports.com