College Sport
2024 Polynesian Bowl announces four-star OL Paki Finau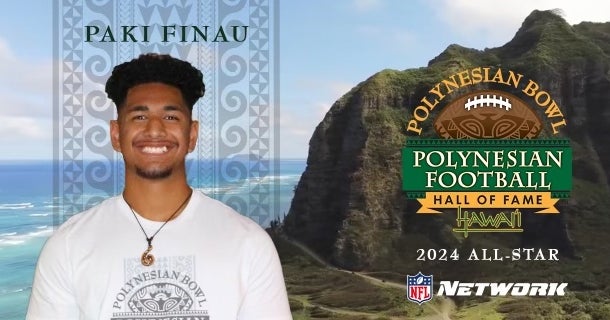 Hesperia (CA) Oak Hills Forward To ask questions is the latest four-star prospect added to the 2024 Polynesian Bowl.
Finau is one of the most coveted prospects in the region and was upgraded to four stars by 247Sports two weeks ago.
He plays tackle at the high school level, but from a frame perspective, we could easily see him slip inside and play defense. No matter where he is, he has all the tools to excel at the next level.
We saw him at the National Preps Showcase in Las Vegas earlier this month and he was very impressive. He is a naturally strong kid with very good legs and gets better every time we see him.
"This is an incredible honor and a huge blessing," Finau said. "My mom was so excited and proud of me, she was in tears. I've been watching this game since I was a kid and it's so great to represent my culture against the best players in the country.
"Even before I got serious about football, I watched the game and it definitely became a goal for me when I started playing in high school. I remember seeing Noah Sewell And Justin Flow a couple of years ago and then Spencer Fano last season so I can't wait to get out there."
Finau said he had never been to Hawaii before, but he has family in the islands.
"My dad used to come there often, and I still have family there," Finau said. "I have never been there, but it will be fun to play my last high school game in Hawaii in front of a family that has never seen me play before.
"It will be fun to meet some other players from all over the country for the first time. Obviously I'm Polynesian, I already know about the local culture, but I'm still very happy to embrace it even more when I'm there."
The Polynesian Bowl has become one of the premier high school all-star games in the country. The celebration of culture and football makes the game unique. Polynesian Bowl 2024 will be broadcast live on the NFL network.
"The Polynesian Bowl has become the most popular high school football all-star invitation," said 4-time Super Bowl champion and Polynesian Football Hall of Fame chairman Jesse Sapolu. "Pakistanis will have experiences of a lifetime."
In terms of hiring, Finau said Arizona and Washington are the two schools that are putting in the most effort, and he just arranged his first official visit to Tucson.
"I will be in Arizona on June 2," Finau said. "I have a great relationship with the Arizona coaches and they are very actively recruiting me right now.
"I love the family atmosphere and how hospitable everyone was to me and my family when I came here in January. I am confident that I have a high level of comfort and I am happy to be back."
As already mentioned, huskies also tense up a lot.
"I definitely plan to visit UW soon," Finau said. "As with Arizona, they are very hard at recruiting me and I had a great time there. in January at the Junior Day event.
"It was cool because there were few players, there were fewer of them, so the coaches gave us a lot of personal attention. I like the campus and the school itself, it's beautiful there, and this will be the next visit I organize.
Finau said Penn State and UCLA are two other schools involved.
"Penn State just proposed to me last week and they really want me to get on campus," Finau said. "This is a great school with great traditions, so I really want to make an official trip there too. They are really making a big push right now.
"I have attended UCLA before but not since they offered me so I am making sure to get there this spring for practice. I don't hear as much from them as I do from other schools, but they talk to my coaches a lot and let them know that I'm a priority for them."
Utah and BYU will also receive visits.
"During my spring break, my family is going to Utah to see my grandmother, and I am going to visit Utah and BYU while I am there," Finau said. "Utah has a great program. and I really like their trainers. I have never visited before so I am excited to see them.
"BYU also has a strong program and they communicate with me. I've never been to BYU either, but I've heard that it's very good. I'm an early graduate so I'm planning on making a decision later this summer. I don't know if I can make all five trips, we'll see, but I want to commit to my senior year."


Source: 247sports.com