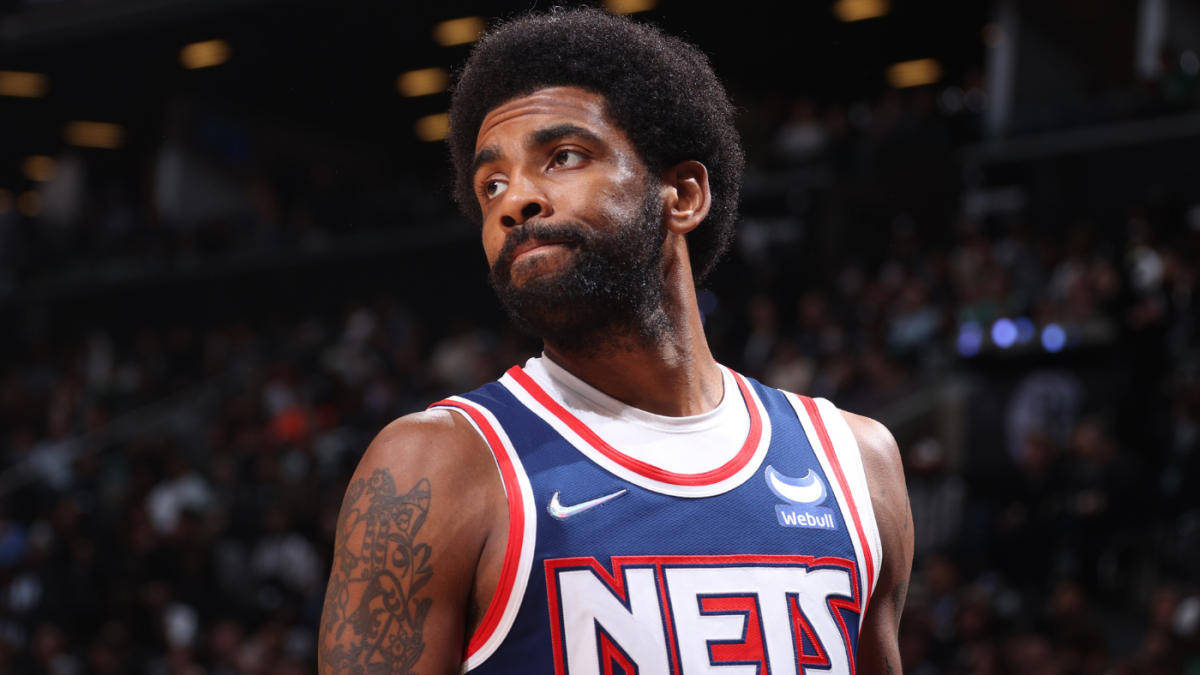 [UPDATE: After the Brooklyn Nets suspended Kyrie Irving on Thursday for a minimum of five games, pending his completion of "a series of objective remedial measures that address the harmful impact of his conduct," Irving posted an apology on Instagram. On Friday morning, Anti-Defamation League CEO Jonathan Greenblatt tweeted that, while the ADL would not accept Irving's previously announced donation and "there is a lot more to do to undo this damage," the apology is an "encouraging step" and the organization is open to engaging with him. Nets general manager Sean Marks expressed a similar sentiment at shootaround in D.C.]
NBA issued a statement from Commissioner Adam Silver on Thursday, speaking to joint statement which Kyrie Irving, the Brooklyn Nets and the Anti-Defamation League published last night. In it, Silver expresses his disappointment that Irving did not apologize for releasing a film full of antisemitic conspiracy theories to the public. Shortly after press release Irving again refused to apologize or fully condemn the film. in their first public comments after defensive, defiant press conference on Saturday. And shortly after this denial of apologies, This was announced by the CEO of the Anti-Defamation League, Jonathan Greenblatt. that Irving had broken his promise to take responsibility.
Greenblatt shared a video of Irving after Thursday's workout refusing to give a yes or no answer when asked if he has any anti-Semitic beliefs. (Irving first lamented that the question was asked and said that he respects and accepts "every area of ​​life", and then twice said that he "can't be an anti-Semite if I know where I come from.") Along with the video, Greenblatt tweeted that the answer to the question is "always 'NO' without ambiguity". He added that the Anti-Defamation League took Irving at his word, "when he said he was taking responsibility, but today he didn't deliver on his promise. He obviously has a lot of work to do."
AT follow-up tweetGreenblatt expressed his support for Silver: "We are delighted that NBA Commissioner Adam Silver will face Kyrie and demand an unconditional apology. Silver's statement resonates with the issues that we plan to address with Kairi, but they are even more relevant in light of Kairi's statements today. ."
Silver's statement, in full:
"Kyrie Irving made the ill-advised decision to post a link to a film containing deeply offensive anti-Semitic material. While we appreciate the fact that he agreed to work with the Brooklyn Nets and the Anti-Defamation League to combat anti-Semitism and other forms of discrimination, I am disappointed that he did not issue an unconditional apology and, more specifically, condemn the vile and harmful content of the film, which he decided to publish. I will personally meet with Kairi next week to discuss this situation."
Irving wrote about a film called From Jews to Negroes: Awaken Black America last Thursday. One week later, neither the Nets nor the NBA penalized Irving. The film, and the book on which it is based, allege that "Jews have established five major delusions that work to hide their nature and protect their status and power." One alleged lie: "That 6 million people were killed in the Holocaust during World War II." (Irving said on Thursday that "the Holocaust itself is an event that means something to a large group of people who suffered from something that could have been avoided," adding that he does not believe "some critics of the Jewish faith and communities" in the film.)
In a joint statement with the Anti-Defamation League, Irving and the Nets pledged to donate $500,000 each "to causes and organizations that work to end hate and intolerance in our communities." They also both pledged to work with the Anti-Defamation League in "a quest to develop inclusive educational programs that will comprehensively combat all forms of anti-Semitism and bigotry."
The prepared statement also included this quote attributed to Irving:
"I stand against all forms of hate and oppression and stand firmly in support of communities that are marginalized and impacted every day," said Kyrie Irving. "I am aware of the negative impact of my fast on the Jewish community and I take responsibility. I do not believe that everything said in the documentary was true or reflects my morals and principles. I intend to do so with an open mind and a willingness to listen. So, my family and I did not want to harm any one group, race or religion of people and want to be only a beacon of truth and light."
Irving again called himself a "beacon of light" on Thursday afternoon. However, when asked if he personally met with the Anti-Defamation League, he said, "I was informed that they wanted to have a meeting, and we arranged it." New York Daily NewsStefan Bondi said. On Wednesday, Irving sent his father and stepmother/agent to meet with the leadership of the Anti-Defamation League rather than go himself.
Asked if he expects Irving to be on the roster – or potentially sidelined – when the Nets visit the Washington Wizards on Friday, interim coach Jacques Vaughn said, "I'm not going to touch on that. I'm not sure what the options are about what was said to be there. I was in training today and the group that trained here I expect them to play."



Source: www.cbssports.com