NCAAF
Arkansas basketball coach Eric Musselman credits Texas A&M after Razorbacks blow lead in SEC Tournament loss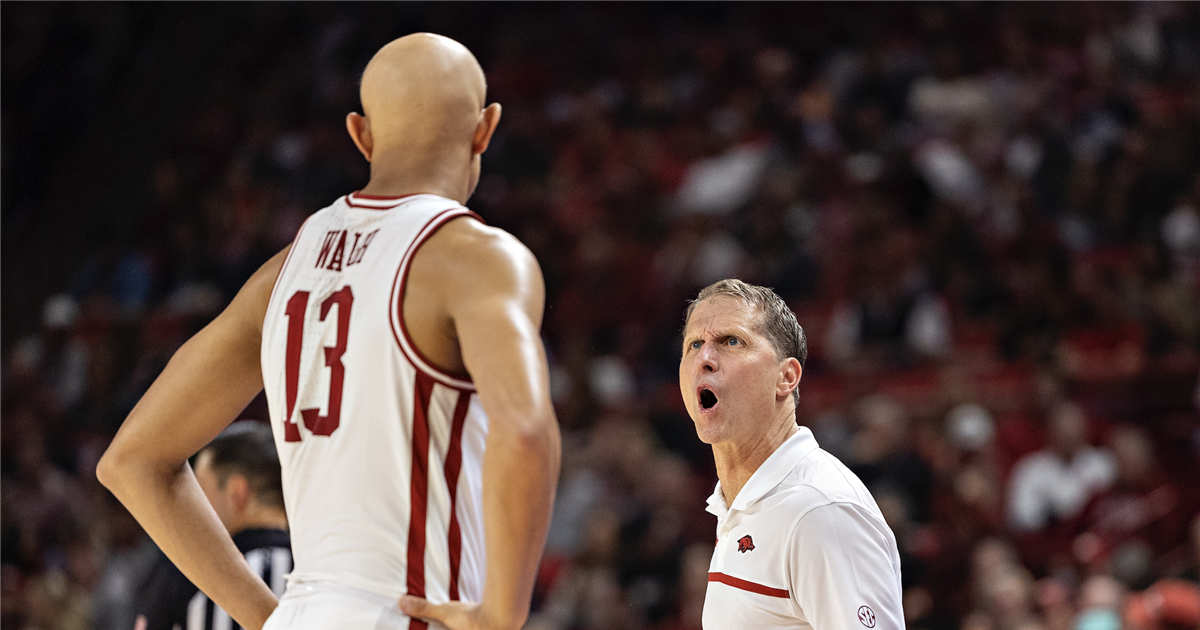 The inconsistency issues that plagued Arkansas basketball throughout the season resurfaced in Friday's 67-61 SEC Tournament Quarterfinal loss to Texas A&M, leading to discouragement from coach Eric Musselman and the players. Arkansas lost for the first time in 79 games after leading by 13 or more points in what was a stunning end to the pre-NCAA Tournament season for one of the SEC's most talented teams.
"Obviously we played very well in the first half and badly in the second. I give Texas A&M credit for their performance in the second half," Mussleman said. "The biggest topic before the game was basketball rebounds. It is obvious that with the score 26:43 we did not hit the ball. In the second half, the score 7-0 robbed us of the aggressiveness that I thought in defense. But then again, I give credit to A&M. for how hard they played and for changing the nature of the game in the last 20 minutes of the game."
Arkansas is now looking to seed Sunday's NCAA Tournament as one of several SEC teams expected to be invited.
Get the fastest results, stats, news, live videos and more. CLICK HERE to download the CBS Sports mobile app and get the latest on your team today.
Here is what Musselman, Jordan Walsh, and Anthony Black subsequently said.
In a message to a team participating in the NCAA Tournament
"I haven't thought about it yet. I know this is the first time since 2008, 18 years since Arkansas had three NCAA Tournaments in a row. But we are a young team. It happens to every team every year. Historically, we were really good in the second half. This season we didn't play very well in the second half of the games. We will analyze this game tonight and tomorrow. The players will be off tomorrow. We will wait and see who we play and where we play. At this point, we will begin preparations. Both schematically and mentally, some of the things we need to do to prepare for the game and win and try to advance in arguably the greatest sporting event of the NCAA tournament."
On attacking in the second half
"Yeah, I mean obviously Nick (Smith), 1-10, that's nine of our missed shots in the second half. It wasn't just Nick. Second half, so… It's not the first time this has happened in the second half. We are Young. I mean, the recess speech has been the same for the last eight years. The device was the same. We are just a young team. Winning and finishing matches is not easy for teams. Tonight is another example for us."
On the difference in free throws
"Obviously we didn't have much time to prepare, because by the time we got back last night, yesterday's game had really affected you, of course. I think we did a good job in both halves. I thought the first half was physical at both ends of the court. Again, I mean Texas A&M beat us. If you lose 7-0 on foul at any level, be it CYO, college, NBA, it affects your offensive aggressiveness on defense, especially a team that scores a percentage, as well as Texas A&M all season long.
"They are a great free throw team and great free throw attempts. Of course it did, because we didn't want to put them on the foul line. It had an effect on us. I think we did a phenomenal job blocking 11 shots. I think we did a really good job of protecting the ring. But again, they played a great second half, led by Taylor. I thought his significant other was phenomenal. We had some guys who didn't play very well in the second half. Here is the result."
About the overall strength of the SEC
"Yes, it's really hard in this league, it's really competitive. Big talent. There's a lot of NBA players in this league. There are great coaches in this league. I hope we've learned a lot. Rookie, I hope we learn something tonight, what we can discuss and try to improve. It stung. A&M are a really good team. They were the second seed. We were in the lead for most of the game. we had the lead for 27 minutes or so. I think we were leading 75 of the 80 minutes , which we played with them in two other games, we proved that we can play with anyone.
"Both our games in Alabama were very close. Then, as far as the tournament goes, of course, again, it's the first time in 18 years that a program like Arkansas has made it to three NCAAs in a row. As a member, I think you should let this game sink in before we turn the page. I'm not going to think about the tournament until we know who we're playing and where we're playing. I'm going to study this game and see how we can get better."
Jumper Jordan Walsh gives Arkansas a 13-point lead
"I mean, obviously it was a good feeling to take the shot, to be able to take the lead at half-time. As we got to halftime, I felt like we were tensing up coming out, defending aggressively and rebounding the ball at a higher speed than in the first half. That was kind of our main goal. We just hoped we could take advantage of it."
On Razorbacks misplaying in the second half
"Yes, I feel like we started the game very aggressively, following the game plan, exploiting their weaknesses. I feel like when it came to the second half, I just missed it. We weren't that aggressive. . We've settled in a little more. I felt we could take advantage a little better. Yes, that's all."
Anthony Black on upcoming NCAA Tournament
"I mean, it's good that we have another tournament, hopefully on Sunday we will see it. I mean, that was our expectation, to be honest, so it's not exactly like that."


Source: 247sports.com