College Sport
Cali '24 WR Kwazi Gilmer has seen his stock take off this off-season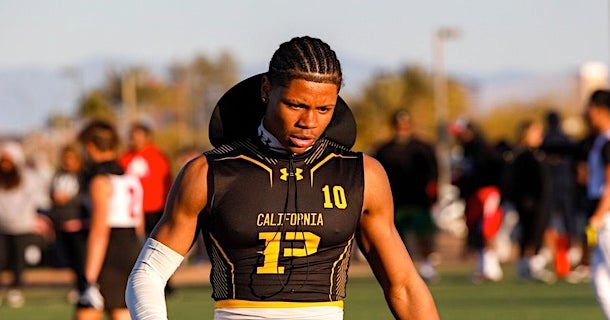 The crop of wide receivers in the California '24 class is one of the strongest in recent memory, and West Hills (Calif.) Chaminade Gilmer knew another exciting prospect at the national level.
Last season, Gilmer emerged as one of the most explosive receivers in the region. He caught 29 balls for 600 yards and eight touchdowns and added another 243 yards and a touchdown return.
Weighing 6-2, 180 pounds, he has a long, athletic build, a high level of body control, and a speed that keeps him behind the rest. His explosiveness really shows in the return game and he also naturally catches the ball with the ability to win 50-50 and toss balls from opposite angles.
In terms of hiring, Gilmer received Pac-12 offers during the season from Colorado, Washington, Washington State and Arizona.
Its stock really started to rise in January with new offers from Boston College, UNLV, Syracuse, Michigan State, UCLA, Notre Dame, Stanford and Utah. USC is another school showing interest and its last visit was to the Trojans.
"I was there for the second time, but the first time since Coach Riley took over as coach," Gilmer said. "It was great, I spent a lot of time with Coach Simmons (WR Coach) and it was a really good experience for me.
"Coach Simmons is a very laid back dude, easy to talk to. We watched the movie for about an hour and he pointed out some of the features of their crime and showed me where I could fit into it. I liked the atmosphere there and overall it was a really fun experience."
Gilmer also visited Washington in late January.
"Washington is definitely the best school for me," Gilmer said. "I had a great conversation with Coach Shepard (WR Coach) and it actually got me really excited. Everything he said was what I wanted to hear and I had a great time.
"I really liked the campus and the view from the stadium was incredible. It was good to catch up Lee Markswho is one of the top recruiters, and I also like Coach De Boer, so I like a lot about Washington."
UCLA is another school on Gilmer's list, which the Bruins proposed in late January.
"It was funny, they came to my school and after a couple of days they offered our security, Marquis Gallegos" Gilmer said. "I was like, 'Dude, UCLA isn't contacting me, but then coach Jerry (Neuheisel) called me and offered.
"I really like UCLA and my mom went to school there, so it was one of my favorite schools growing up. I talk to Coach Jerry all the time and I love it Chip Kelly too much. He came to our school and we talked a little. I'm going to come in March as soon as the dead period is over and UCLA will always be at the top of my list."
Notre Dame was another big deal for Gilmer, and he knows the Irish School is the only school he will officially attend.
"I don't have dates yet, but I will definitely officially visit Notre Dame," Gilmer said. "I love what Coach Freeman is doing and Notre Dame could be a great opportunity for me. Coach Stucky suggested me and it was a great moment.
"It's kind of funny because I told CJ Carr, who I play 7 on 7 with, that I need a Notre Dame offer. He said he'd see what he could do, and the next day Coach Stucky and Coach Freeman came to my school. A week later Coach Stucky called me in the morning before school and offered and I couldn't stop smiling all day."
Stanford offered Gilmer, and he plans to catch up in Palo Alto for Junior's Day.
"They have a couple of Junior Days, but I'll try to visit them in April," Gilmer said. "At Stanford, it's all about the degree, and that's important to me. I love the new coaching staff and I spoke with Coach Taylor today.
"I love what he's trying to do with the program and his vision for moving forward. I love the 40 year plan at Stanford and the post-football life opportunities so I'm excited to visit and learn more about the school and how things work there."
Growing up, Gilmer said that Oregon was a childhood favorite and he was able to visit last season when the Ducks hosted Utah.
"I've already been to the games in Oregon because I'm actually from Oregon," Gilmer said. "I still have a lot of relatives there, but this time it was great to watch the game as a rookie and the atmosphere is incredible.
"I have a great relationship with coach Lock (Lockett) and he really understands me. He tells it like it is and I respect him a lot for that. I had a great time in Oregon, I always do, and I really like their program."
As for the timing of the commitment, Gilmer said he's not sure what he wants to do right now.
"I would like to make a decision before senior year so I can focus on school and football, but nothing is set in stone right now," Gilmer said. "I want to make all my trips, if I can, in the spring and summer, and then play them from there.
"I'm taking my time and I just want my recruiting to evolve and I'm looking at what options I have. I think after a few more visits I'll have a better idea of ​​what I want to do and then we'll see what happens."


Source: 247sports.com