Soccer
Chelsea vs. Borussia Dortmund Champions League player ratings: Raheem Sterling steps up; Gio Reyna disappoints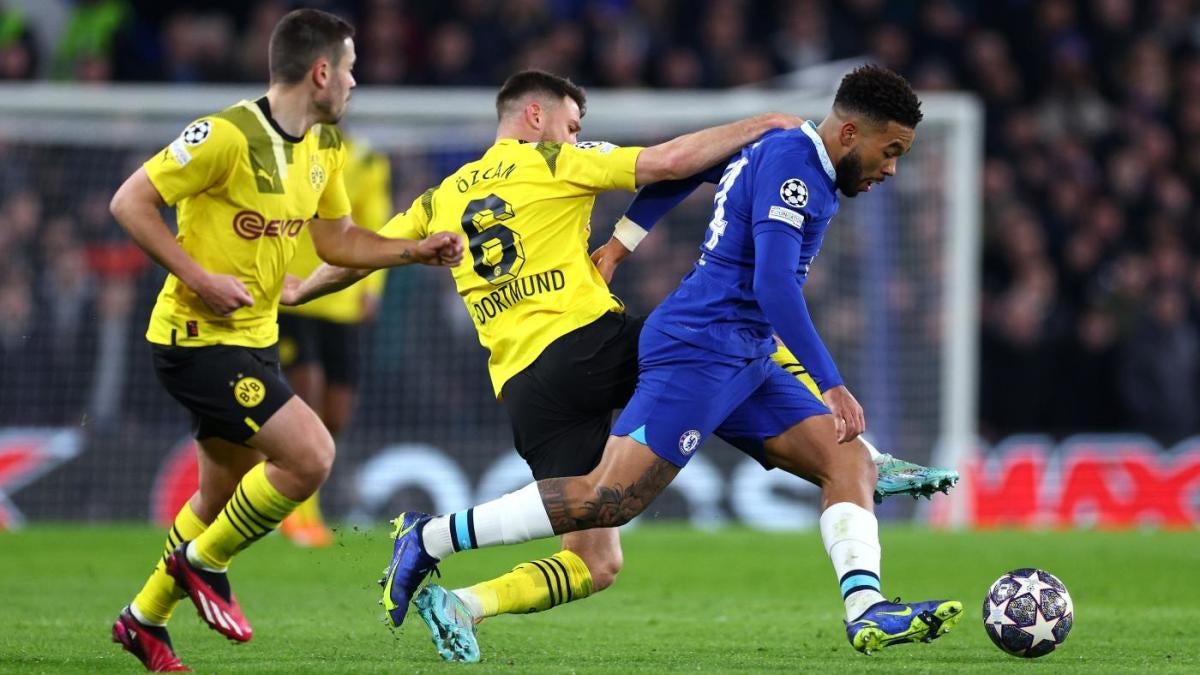 Chelsea have advanced to the last eight of the Champions League after a 2-0 (2-1 on aggregate) second leg against Borussia Dortmund on Tuesday. Goals from Raheem Sterling and Kai Havertz provided a boost for the Blues, who managed to overcome a 1–0 defeat in the first leg and knock out the Germans, who had chances but missed the final result, snapping an 11-game winning streak.
The victory means the Blues will now play in the quarter-finals next month against an opponent to be determined. Benfica also advanced on Tuesday, beating Brugge 5-1 to win 7-1 on aggregate.
You can watch the Champions League live throughout the season at Paramount+.
How did everyone perform in this? Here are our player ratings:
CBS Sports has a brand new daily football podcast covering everything you need to know about this great game. Don't forget to subscribe to House of Champions to cover the biggest games, stories, Fabrizio Romano transfer news and everything else happening in the most popular sport in the world.
Chelsea Player Ratings
| Name | minutes | How did they do it? | Rating |
| --- | --- | --- | --- |
| (GC) Kepa Arriabalaga | 90 | Strong Spanish performance. A fantastic free-kick save by Marco Reus and another close post save by Marius Wolff. Sure thing. | 7.5 |
| (DEF) Wesley Fofana | 90 | Perhaps he just saved his team by throwing his last breath to the ball in the last minutes, blocking a shot that Kepa controlled confidently. Was a bit inconsistent but was there when needed. | 7 |
| (DEF) Kalidou Koulibaly | 90 | In attack, he missed the ball, which caught him by surprise, and does not want to watch the replay. In defense, he was quite strong, but sometimes he was unexpectedly beaten in the air. | 6.5 |
| (DEF) Mark Cucurella | 90 | There was always effort, but his long forward passes were far from the target. I intercepted the ball four times and returned it eight times, but I did not calculate the tackles very accurately. | 6 |
| (DEF) Rhys James | 90 | Sharp on both sides, well timed many of his moments. He boldly moved in space, opened zones and played dangerous balls, which lacked a little accuracy. | 6.5 |
| (DEF) Ben Chilwell | 90 | Lively down the left flank and did a great job with the ball in the center of the penalty area, substituting Raheem Sterling. Also won a penalty. Effective. | 7.5 |
| (MID) Matthew Kovacic | 83 | Not the most impressive result, only 69% of passes, but he was always ready to act decisively. He fought in the air for a long time, but it did not cost his team. | 6 |
| (MID) Enzo Fernandez | 87 | Such an elegant player who probably expected to see the ball a little longer. His ability to do a little bit of everything was evident, though there was nothing too flashy about him. Just did my part. | 7 |
| (FDW) Raheem Sterling | 83 | ⚽ 43′ Focused on rebounding from a failed shot attempt to bury one at speed and it was the goal the team deserved and needed, ending the goal drought. Fired one shot and did it, doing exactly what he was asked to do. | 8 |
| (FWD) Joao Felix | 67 | Not a bad little performance by the Portuguese team. He showed flashes, created an opportunity and had a couple of decent shots on goal. Always managed to knock the ball down. | 7 |
| (FWD) Kai Havertz | 90 | ⚽ 53′ (pen) Hit the post with a great shot in the first half and then again scored a penalty from the post early in the second half. Luckily for him, he managed to retake and remove it. He looked sharp and moved well on the lanes, creating opportunities for attack. | 7.5 |
| Substitutes | Replaced | How did they do it? | Rating |
| Conor Gallagher | Felix (67′) | Nearly scored but was recalled due to Sterling's offside. He moved a lot, caught balls and brought the necessary energy from the bench. | 6 |
| Ruben Loftan-Cheek | Sterling (83′) | A late replacement that didn't lose a gear and had a lockup and a runaway. | 6 |
| Christian Pulisic | Kovacic (83′) | A bit sloppy trying to waste time, but other than that he had some decent vertical runs. | 6 |
| Denis Zakaria | Enzo Fernandez (87′) | Late replacement, time consuming. | N/A |
| Manager | Used submarines | How did the manager do it? | Rating |
| Graham Potter | 4 | One of the team's best performances in recent times. The goal drought has ended with two, and there are reasons to be optimistic about what's to come. He must support their faith. | 7 |
Borussia Dortmund player rating
| Name | minutes | How did they do it? | Rating |
| --- | --- | --- | --- |
| (GK) Alexander Meyer | 90 | It was a busy night. After an early save to recapture Joao Felix, he was taken down by Kai Havertz and then saved from a post before making a smart save from his German compatriot. Karkas again came to the rescue for a Havertz penalty, but the second kick was converted. | 7 |
| (DEF) Marius Wolf | 90 | Guilty of handball that resulted in Chelsea converting a penalty for the second goal. It was clumsy and could have been avoided, although he was able to correct it when Kepa denied him a goal twice in the second half. Late booking as he turned into a pantomime villain at the end. | 6 |
| (DEF) Niklas Soule | 90 | Rarely looks convincing in his movements, and that has continued here. The German was booked in the first half and may have been wary of it in the second as Chelsea pushed forward. | 5 |
| (DEF) Nico Schlotterback | 90 | Not the easiest of exits, but he was more convincing than some of his fellow defenders when he faced Chelsea's attack. | 7 |
| (DEF) Rafael Guerreiro | 90 | He looked more comfortable in attack than in defense, but could not create too many open chances. | 6 |
| (MID) Emre Can | 90 | It was fortunate that Kai Havertz was not fouled at the start of the penalty game, but overall he showed a disciplined game. | 7 |
| (MID) Julian Brandt | 5 | Replaced Reina just minutes later due to injury. Given his good recent form, this could be a decisive blow for the Germans. | 5 |
| (MID) Jude Bellingham | 90 | At times he interfered and shot wide in the second half when he probably should have hit the target. However, this was not the dominant spectacle he would have wanted against Premier League rivals. Booked late as things were heating up. | 7 |
| (MID) Salih Ozcan | 64 | He was guilty of hitting the ball after encroaching on Kai Havertz's missed penalty, which meant a re-kick. Otherwise, Edin Terzic removed him to give the team a bit of momentum. | 6 |
| (MID) Marco Reus | 90 | I saw a great free kick that Kepa saved in the first half, but Raheem Sterling saved it on the first goal. After the Kai Havertz penalty, it was hard to get back into the game. | 6 |
| (FWD) Sebastian Haller | 77 | Tough night for the Ivory Coast international who appeared frustrated at times as he had few opportunities to feed, scored no shots and only completed 60% of his passes. | 5 |
| Substitutes | Replaced | How did they do it? | Rating |
| Gio Reina | Brandt (5′) | Started well and was active before he made a good low cross that was unsatisfactory. However, as the game went on, he would disappear and appear to be not in full playable form. | 6 |
| Jamie Byno Gittens | Ozcan (64′) | He was given 26 minutes to make an impact and add some speed against one of his former clubs. However, this was not enough to unlock the Blues' backline. | 5 |
| Donyell Malen | Haller (77′) | Posted for 13 minutes and overall looked brilliant, suggesting Terzic could have dumped him sooner. | 6 |
| Manager | Used submarines | How did the manager do it? | Rating |
| Edin Terzic | 3 | A bit limited in terms of what he could do off the bench and suffered a lot by losing Brandt early on. Unlucky with the nature of the defeat, but equally Dortmund rarely threatened outside of Reus and Reina in the first half. | 6 |
Dortmund rankings


Source: www.cbssports.com