College Sport
Composite four-star OL Manasse Itete breaks down his top ten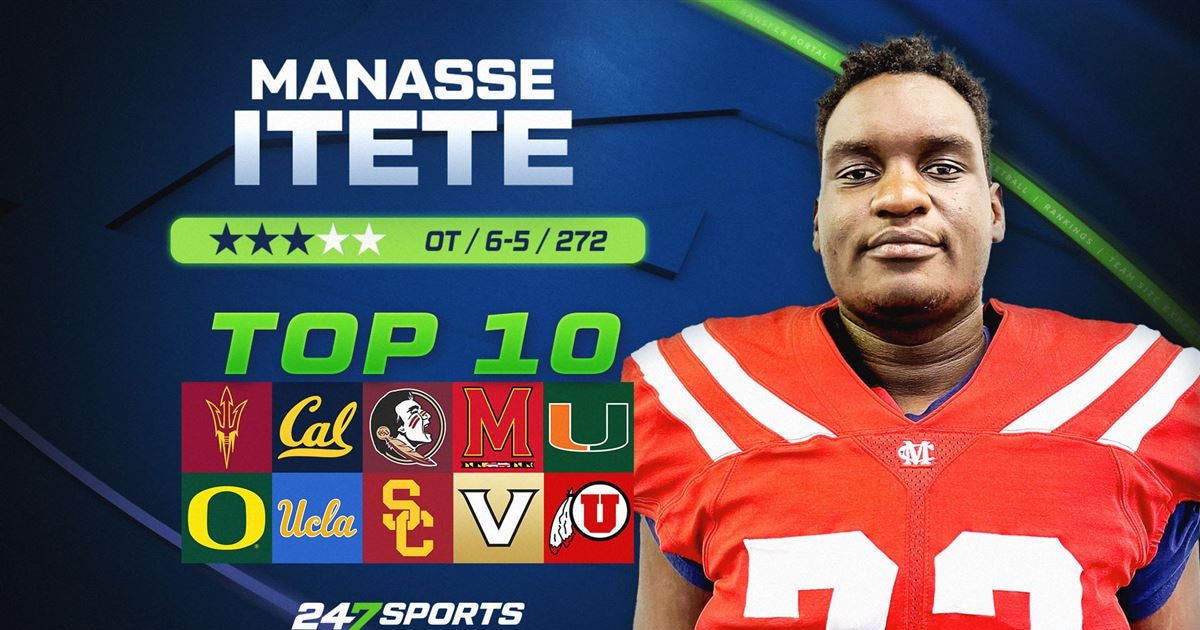 Modesto (CA) Christian offensive lineman Manasse Itete named his top ten on Wednesday.
Rising linemen traveled from the Congo to play basketball in the US.
But he has taken to football, and although he has only a dozen preparatory football matches under his belt, he has more offers than teenagers.
Itete named the top ten states Arizona, California, Florida, Maryland, Miami, Oregon, UCLA, USC, Utah, and Vanderbilt.
He broke down his top 10 and why they made it there.
Arizona: "Coach Saga (Tuitele) and coach Kenny (Dillingham), they will do something special this year. The way they recruit guys is going to be fun to watch."
California: "New offensive line coach (Mike Blosh), I feel that he is diligently recruiting me. He came to visit me at school and talked to me a lot. He's really cute."
Florida: "My boyfriend Blake (Nitchelson) is going there and I love every single one of them and D-Yray (general manager, Darrick Irey) my boyfriend".
Maryland: "Maryland is a good school and I have a good relationship with them. They talked to me for so long and didn't offer, but they wanted to see me, and then coach (Brian) Braswell proposed."
Miami: "I like the coach Mario Cristobalhe is a good coach and I have a real relationship with him."
Oregon: "I love the coaches in Oregon and this is one of the best schools in Oregon on the west coast."
University of California at Los Angeles: "UCLA just started recruiting me hard, but they bring everything I want and the things I need. I feel it will be a good base for me."
USC: "Coach (Josh) Henson said they want to see more. They offered me but never hired me but they really want me and when they don't recruit me. We still had a good relationship and now they are recruiting me. hard."
Utah: "I like the coach Jim Harding and I love the way they do things and what they do is special."
Vanderbilt: "They were the first school to hire me and we have a good relationship. It's the SEC and they want to bring me in and see what they can do."
Itete visited UCLA and UCLA this season and visited Arizona State last month.
Itete plans to visit Florida in March, Miami, Utah, UCLA and USC.
The 6-5, 276-pound fighter was the MVP at the National Preps Champion this month with an 84-inch wingspan.
Here's what Greg Biggins had to say about Iteta from Las Vegas: Itete has perhaps the most long-term potential of anyone in the camp. Considering he plays in a premium position as a left tackle and our ranking system is based on an NFL Draft prediction, Itete is a guy who is just screaming for a potential first round pick. He is only 6-5, 276 pounds, ran very well at 5.21-40 and had an 83-inch wingspan. He is a former footballer and it shows in how well coordinated he is and how easy he moves. He doesn't have the awkwardness or clumsiness that you see in a lot of young linesmen, and as he gets stronger and stronger, he takes his game to the next level.


Source: 247sports.com