NBA
Dr. A's weekly risers and fallers: Trey Murphy III, Myles Turner make the list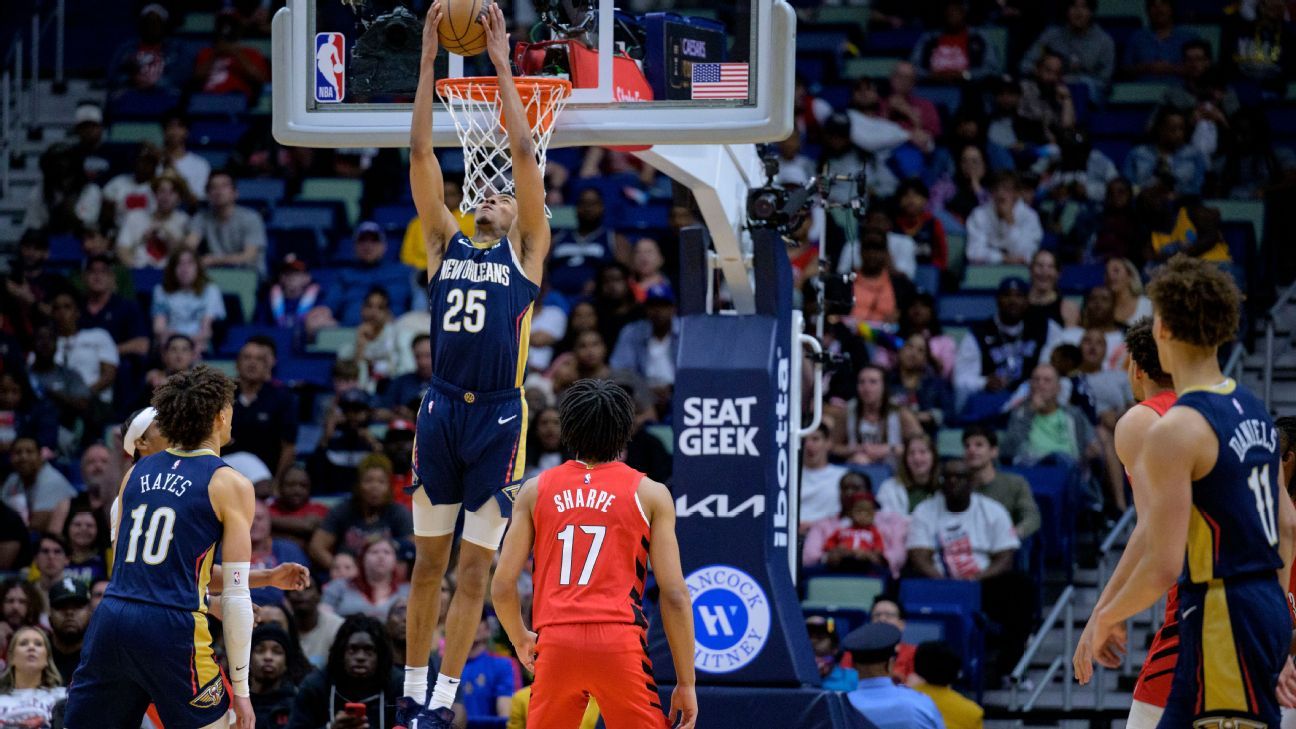 This week's "rise" and "fall" column lands during the first round march madnesswhen the attention of many basketball fans is riveted on the student game. However, we believe in your ability to multitask and seize the opportunity to improve your fantasy basketball team by following our guidelines.
risers
Ja Morant, PG, Memphis Grizzlies: Morant's suspension ends on Monday and he can play against the Mavericks that night. However, he is not expected to be ready for this game as he returns to playing form. An official NBA statement means Morant could very well play Wednesday against the Rockets. If that happens, he will have the opportunity to play three times next week and four times in each of the final two weeks of the season. However, he still doesn't technically have a return schedule, so nothing is guaranteed.
Trey Murphy III, SG/SF, New Orleans Pelicans: Murphy supported Sunday's 41-point extravaganza with 20 points, 3 rebounds, 3 steals, a block and 4 more 3-pointers in Tuesday's loss to the Lakers. Murphy has hit double figures in six straight games, played at least 30 minutes in all seven games in March and doesn't look to be slowing down anytime soon, especially with Zion Williamson still off the fantasy radar. Murphy and the Pelicans will play three times next week and then end the season in a row with four games a week.
Zach Collins, center, San Antonio Spurs I was thrilled with him when Jacob Poeltl was transferred to the Raptors and Collins paid off big time. In the last couple of weeks, he has been a second-round late fantasy talent and has scored 25 and 23 points in his last two games. He's doing more than just scoring, averaging 18 points, 8.4 rebounds, 4 assists, 0.8 steals, 1.2 blocks and 2.4 threes on 54.8% shooting this month. Those are monstrous numbers, and Collins has just become a must-have player in the fantasy genre right now. Somehow, he's featured in less than 20% of Sportzshala's leagues, and the Spurs will play four games next week.
Kyle Anderson, SF/PF, Minnesota Timberwolves: "Slow Mo" was a fantasy star for three straight games, averaging nearly 15 points, 8 rebounds, 10.3 assists, 1 steal, 1.3 blocks and 59.4% shooting from the floor and 100% from the line. . For March, he had 12.8 points, 6.5 rebounds, 7.7 assists, 1 steal, 1.3 blocks and 0.8 three-pointers in six games. The Wolves are in the middle of a four-game week and are finishing the season 3-4-3 in games a week. It is available in approximately 65% ​​of Sportzshala leagues. I'd take a chance on him right now, even with a three-game week on the horizon.
Immanuel Quickly, PG, New York Knicks: Quickly has been on a roll for the past few months and is a candidate for New York's sixth man of the year. He has been particularly popular in the past two weeks, returning to fantasy value early in the fourth round. He had one bad game in March when he hit just 1-of-11 shots in a loss to the Kings, but otherwise he was a star in both real life and fantasy. Even factoring in that loss from Sacramento, Quickly is averaging 19.8 points, 5 rebounds, 4 assists, 1.1 steals and 3 3-pointers on 45.9% shooting in his eight games in March. He might be available in your league because the Knicks have a two-game week right now and will only play three next week.
failures
Miles Turner, PF/C, Indiana Pacers: Turner had foul problems in three consecutive games, fouled in two of them, and scored over 16 points only once in March. His numbers are declining, and he's grabbed five or fewer rebounds in four of his five March games. He missed several games with a back injury but returned for Thursday's game against Milwaukee, where he scored 11 points and eight rebounds. If you roll his seven-block gold against the Rockets on March 9, this month hasn't been kind to Turner (or his imaginary managers). He averaged 14.4 points, just 3.6 rebounds and 2.8 blocks in five games in March and is struggling for the line, shooting just 68.8% of his free throws. That means the value of an eighth round of fantasy, but maybe now that his back is feeling better, he'll turn things around.
The good news is that the Pacers play four times in each of the next two weeks. I just hope Turner can stay on the court between the foul and the lame back. The Pacers only have one game left in a row (March 24-25), so hopefully he'll be fine to go the rest of the way. The Pacers are currently on the sidelines looking to make the playoffs, but they still have a chance of getting into the situation they will play in. Hopefully that's incentive enough to keep it there.
Mike Conley, PG, Minnesota Timberwolves: Conley has scored six and seven points in his last four games and has done next to nothing this month. He is averaging 13.8 points, 3.5 rebounds, 4 assists, 0.8 steals and 2.2 3-pointers in his six March games and is losing to teammate Kyle Anderson. Also, with only three games next week, you might want to opt out and look for a hotter point guard.
Darius Garland, PG/SG, Cleveland Cavaliers: Garland's scoring is all right, averaging 22 points and 7.6 assists in seven games in March. However, he has made just 40.7% of his shots in his last five games (35 of 86) and just 72.7% of his free throws this month. In March, he had no blocks and is averaging just 3.1 rebounds on 3.1 turnovers. He's been a 10th round fantasy player for the last couple of weeks. Add to that the fact that the Cavs only play three times in each of the final three weeks of the season, and it starts to look like Garland's 2022-23 season will end on a sour note.
Tobias Harris, SF/PF, Philadelphia 76ers: Harris seems to be the weak link in Philadelphia and hasn't scored more than 11 points in any of his last six games. In seven contests in March, he averaged only 9.6 points, 5.7 rebounds, 2.1 assists, 1 steal, 0.7 blocks and just 41.1% of his shooting from the floor. He hasn't missed a free throw since going 0-for-2 on Feb. 25, but he shouldn't be used in fantasy for some time either, as he's only returned a 10-round result in the last two weeks. Perhaps there will be light at the end of the tunnel when the 76ers finish the season with a 4-4-4 schedule per week. However, you can find a better player floating around your waiver.
Desmond Bain, SG, Memphis Grizzlies: The thought was that Bain would shine when Morant was out of action, but he pretty much ran out of steam, only regaining fantasy value in the last two weeks in the 12th round. In eight games in March, he scored 20.8 points per game, but the number of interceptions dried up. In fact, the only one he's had in the past eight games came on Wednesday night, and he had five turnovers in that game.
Overall, the numbers don't look terrible: 5.4 rebounds and 5.1 assists plus almost 21 points, but the fact that he doesn't tackle the ball, hit just 2.6 three-pointers per night, and has made 11 assists has left a lot to be desired in his last three games. his fantasy managers. With four games in each of the last three weeks, you just keep rolling with Bane and hope that Morant's eventual return will get him up and running again.


Source: www.espn.com