Fantasy
Fantasy basketball: How concerning is LeBron James' injury?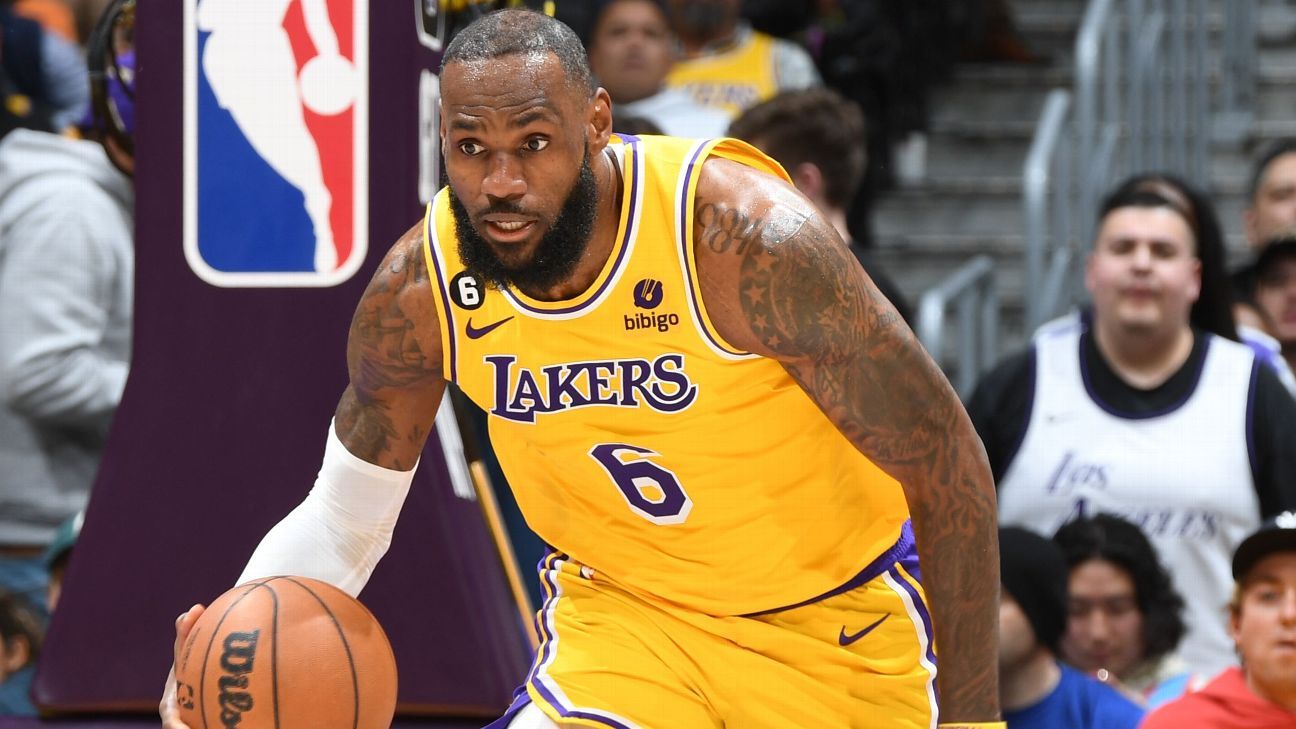 The Suits call me a "method" writer.
It used to annoy me, but still. I just like to occupy the mind and setting of everything I write.
Something's going on in the desert… the Mojave is two hours away. Mountains… select range. I often get some of my best ideas for this space at Clippers/Lakers games.
But when does my alarm go off at 4:30 am yesterday? Warning me that "it's time to write a column about LeBron's leg injury and be in El Segundo by 10am?"
I don't need a set and setup. I wake up, eager to write. So zealous that the 200 words I wrote in my sleep immediately appear on the screen of my laptop.
Dream writing happens when I write to satisfy a need. And after you gobbled up 18 hours of notifications in a row, YouTubers sorted out "I Heard Pop", "Bomb Howl" and "Shams Sparklers" about the Dallas incident?
I need to write this column. Because I need to be calm. Because I have to be in El Segundo at 10.
Easy. By 7:15? Almost the final version is ready.
Now I can safely close my laptop, go on a 20 minute drive, subtract, hit "send" to Joe Kaiser, take a shower and be in El Segundo by 10…with a smile.
I'm walking through the mud in the backyard. Enter our dog room/gym. Put on the shoes I call "my skates". Fix my "skates" in the saddle. Play "World Leader" as the soundtrack…just to keep up with LeBron's news at the last second.
But then… my LeBron hyperfocus mixes with the supernaturally hypnotic sound of Freddie Coleman's voice. Freddie Coleman takes me into a heightened State of Flow.
So I don't know I was pedaling for 30 minutes when the Ring front door notice caught my attention. I remember DHL shipping the $260 record from Japan. I remember it's raining.
I decide to run away.
I start to dismount, yelling, "DO NOT LEAVE THIS ON THE PORCH!"
But Boxer #2 hears the sound that gives her permission to come over to me after the ride: the "click" of "my skates" being yanked out of the saddle. And it's been a long, lonely half an hour since we last spoke. So, to celebrate our reunion, Boxer #2 starts getting up on his hind legs to box with me.
So now my threat mechanism suddenly yells "DIRTY PAWS!"… at the very moment I slam my right skate on the rain-soaked floor.
Now… the method author in me would like to be able to type "I heard it pop". But that would be inaccurate.
So I'll rephrase.
Do you remember that moment from the final bout in Goon where Seann William Scott raises his fist to land a right cross on Liev Schreiber when his skate slips, causing his notoriously glazed ankle to buckle, crumple and break in the wrong direction? with a nauseatingly mixed 'CRUNCH' as Seann William Scott crashed onto the ice with Allison-Pill's rafter-shaking howl of crushing pain?
Like this.
So, "like this," I'm rewriting yesterday's column today… in a weightless chair. As my buried, elevated, still angry right ankle looks down at me accusingly.
But at least I was able to watch the Lakers play one of the "23 Most Important Games (Regular Season)" of LeBron's career…without LeBron. So now we have one point and several hours of thrills to add to this mix.
This is what I wrote in my dream.
"I heard it pop."
You know what I hear when I hear LeBron say that?
I don't hear a talking head asking, "Can the Lakers get a top 6 spot?" I don't hear the radio say, "Are the Lakers going to the Play-In at all?"
I hear Kobe Bryant's second free kick coming out from under the net.
I hear the announcer say, "We need to take him out of the game."
I see Bryant eviscerate him off the court on April 12, 2013… already knowing 100% that he had just torn his Achilles tendon.
How did Bryant know? Because he "heard a crack".
And no one with serious NBA miles ever comes back the same.
In the 2012-13 season? Like LeBron, Bryant heroically supported a mediocre team and added too many miles to his record odometer.
Achilles tendons don't care about storytelling. About what a great story it would be for a re-created Lakers to try to make it to the open playoffs in the Western Conference.
Now, I'm not suggesting that LeBron James somehow managed to come back, score 13 points, and lead the comeback of the year on a torn or even torn Achilles tendon. When are the tears of Achilles? No pain… and no leverage in the leg. And the ugly reality of career has changed.
In two weeks? Perhaps the Lakers are so close to the Play-In that LeBron succumbs to the pressure and plays.
But I want to see how far LeBron James can go. Not "it" in this Lakers .500 season.
I want to see if he can keep playing GOAT levels at 40, 42, 43. Because at 38? What we see has never been done before. Beyond the famous NBA galaxy.
29.5 points, 8.4 rebounds and 6.9 assists per game. 2.1 3s… at a mediocre 30.8 3PT%, probably because that leg has been hurting for a while. 33.2 Use. 24.4 TRANS.
Everything is on a list that until 10 days ago was a late lottery at best.
This is NBA history. Let the story reach 100% before it resumes.
With fantasy?
Foot injuries are the most difficult to treat in terms of recovery time. Best case scenario? I think we can hope that LeBron will return on March 17 for the home game against the Mavericks. But a more reasonable hope would be to get his services in time for the final two weeks of the regular season/fantasy playoffs.
What about the rest of the Lakers' prospects that aren't connected to LeBron?
Who takes that 33.2 Usage out and turns it into a purple gold fantasy playoff?
From a level one perspective, a solid fantasy production night after night?
Right now? Anthony Davis and Dennis Schroeder. That's all.
Until D'Angelo Russell comes back and takes some of the defensive heat off Davis, the Lakers can offer you DFS-style one-game lottery tickets. Four players with a constant chance to show a worthy result: Austin Reeves, Lonnie Walker, Malik Beasley and possibly Rui Hachimura.
And as the only Wizards fan I know, yes. I know that Hachimura is SF/PF. But he is an SF/PF who supplies products to SG.
After Russell returns (and Shredder becomes a dropdown)? There is a chance that one of these four names will rise to the first level of reliability. My money is on Austin Reeves, because his production is not so dependent on use.
The player with the most untapped advantage: Jarred Vanderbilt. I am a big fan of his multi-category scores in the style of James Johnson. The only thing holding him back from becoming the best James Johnson is some sort of insult.
When Vanderbilt hits double digits like he did against the Mavericks last Sunday? Vanderbilt is a real fantastic intrigue.
But sad/ironic? I think the only way he'll suddenly start getting over 5.8 FGA a game is if the Lakers slip…and decide to let history get 100%.


Source: www.espn.com