Fantasy
Fantasy Basketball Week 20 Waiver Wire: Adds for all leagues plus schedule notes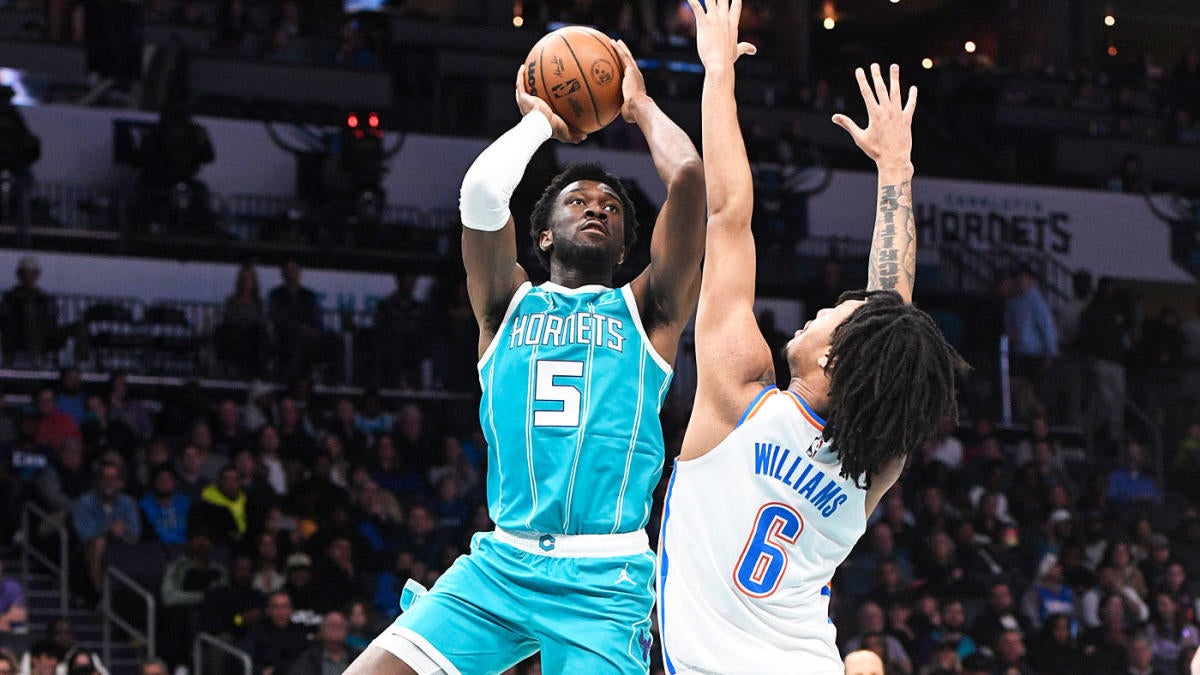 Welcome. We've reached the finish line. The NBA season is only a month and a half away, and most head-to-head leagues start their playoffs in just a couple of weeks. With the trade-in deadline behind us and most of the important buyouts already completed, refueling season is about to begin in earnest. Fantasy ranks will typically see significant changes in the next seven weeks, and I'm here to (try to) guide you through that.
As always, the players in this article must be registered in less than two-thirds of the CBS leagues. The players are listed in the order I recommend adding them, as long as they are equally good for your team.
Adds for all leagues
Mark Williams, Hornets (67% of participants)
I'll keep hitting Williams until he's past the two-thirds mark. Williams, the biggest fantasy winner at the time limit, went from under 20 minutes in each game to an 11-8-1 average in 28.0 minutes as a starter. He is primarily valuable to his defense, where he has already made 2.3 blocks per game since he was promoted, and his 0.8 steals per game is likely to increase to catch up with his previous rate. It is required for all leagues.
Malachi Branham, Tottenham (49% of squad)
Not much new to say after the coverage of Branham here for the past two weeks. He has a big role after the trade deadline (33.6 minutes per game) and should last at least until Devin Vassell (knee) and Romeo Langford (thigh) return. The Spurs have not deigned to grace us with a return-to-play schedule for either of them, despite both missing over a month, but Branham's prominence may continue even after this pair of wings recover. In their first game since the All-Star break, Branham went 23-2-5 and has averaged 20-4-3 since the deadline.
Josh Okogi, Suns (40% of participants)
Okogie has been rolling since the expiration date of the exchange. He played at least 32 minutes in each match and started in the last three. He averages 21-5-2 with 2.3 steals and 3.8 trebles. Kevin Durant (knee) is scheduled to return in the middle of week 20, which will likely destroy Okogi's value. However, with the departures of Mikal Bridges (36.4 min/g) and Cameron Johnson (25.2), Okogi was able to do enough extra work to stay low. However, the most important thing is that Okogi is under such pressure that he is a high priority pickup even if we are going to get 2-4 more games before we have to turn around and drop him.
Kyle Anderson, Timberwolves (with 53%)
Karl-Anthony Towns (calf) will likely be out for at least another week, if not more. Anderson doesn't score much, but every squad that can tolerate this weakness should use him as long as Towns is on the sidelines. He's averaging 10-5-5 with 1.3 steals and 0.9 blocks, as well as solid shots since Towns was injured. If you score, he is in the top 50 players during that time. The decision tree here is very simple: is Towns playing? Do you need points? If "no" to both, Anderson should start.
Kevin Love, Heath (49% of members)
Let's be honest; this probably won't work. Buyout players rarely have an impact on fantasy. Heck, most of the time they barely have a real impact on basketball. However, Love is not exactly a common purchase after a ransom. His status with Cleveland earned him additional respect, and he was relatively effective early this season before an injury pulled him out of the rotation. During the first month of the season, he averaged 11-7-3 with 2.4 three-pointers per game in just 21.3 minutes. It's not hard to imagine that he's putting together a similar segment in Miami. Depending on your situation and the needs on the list, it might be worth a try.
Other recommendations: Cam Reddish, Trail Blazers (19% of participants); Daniel Gafford, Wizards (46% of participants); Jonathan Isaac, Magic (34% of participants); Gabe Vincent, Heath (19% of participants); Aaron Nesmith, Pacers (16% of participants); Josh Richardson, Tottenham (27% of participants); Talen Horton-Tucker, Jazz (53%); Schaedon Sharp, Trail Blazers (32% of members); Jaden McDaniels, Timberwolves (51%); Donte DiVincenzo, Warriors (52% of participants)
Deep League Special Edition
Gabe Vincent, Heath (19% of participants)
Vincent's roster numbers dropped during the All-Star break, presumably due to Kyle Lowry (knee) now on the verge of a comeback. However, as I detailed last week, I think Vincent's role will remain high and Lowry won't come close to the 35.0 minutes he averaged before he first injured his knee in early January. In the eight games Lowry has played since, he has averaged just 25.6 minutes. In these games, Vincent played 22.4. With both players active offensively, I expect a similar split and perhaps a further shift towards Vincent. On top of that, Lowry could miss at least a few more games, with Vincent playing roughly 35 minutes each.
Other recommendations: Jaylene Williams, Thunder (10% of participants); Dalene Terry, Bulls (4% of the squad)
Schedule Notes
The 20th week is generally busier, although the daily routine is semi-balanced. There are 18 teams with four games, compared to 10 with three and two (the Cavaliers and Nuggets) with two. There are no busy days, but there is an unusual split of four hard days (10, 10, 10, 9) that sets up three small tablets (4, 4, 6).
Weekly league lineups
The teams with the best schedule in Week 20 are the Celtics, Hornets and Thunder. The Celtics and Hornets will play four games with a day off between each and three games at home. The Thunder have two games in a row, but all four games are at home.
Among teams with three weeks of play, the Pelicans and Suns stand out as having the least favorable schedules. Both teams have only one day off between games and play mostly away. The Timberwolves also have a below-average schedule, with all three games away, including back-to-back Friday-Saturday games. Also, all of their games will be tough as they will all be playing against teams in the massive Western Conference playoff bubble.
Daily league line-ups
Managers will need to start planning by checking their lineups on Tuesday (10 games), Wednesday (9), Friday (10) and Sunday (10). Most managers will have starting spots available for all four days, but some may find their lineups full before pickup waivers are accounted for. If your lineups are full on any given day, remember that any pickups with games on that day are actually playing one less game for the week.
With two small plans at the beginning of the week, you have the opportunity to gain an advantage in the game while your opponents are likely to save some pickups for later in the week. The 76ers are the only team to play both Monday (4 games) and Thursday (4 games). What's more, they also play on Wednesday, which means they are the only team to start the week 3-for-4. As a final blow, they also play in Saturday's short list of six games.
The Heat's schedule isn't as good as the 76ers', but it's close. It's the only other team that plays both Monday and Saturday, and they finish their fourth game of the week on Saturday, leaving open the option to drop Hot One for the weekend streamer.
The Wizards, Warriors, Spurs and Clippers finish the week 3-of-4. Among them, the Wizards and Spurs play both Thursday and Saturday.


Source: www.cbssports.com