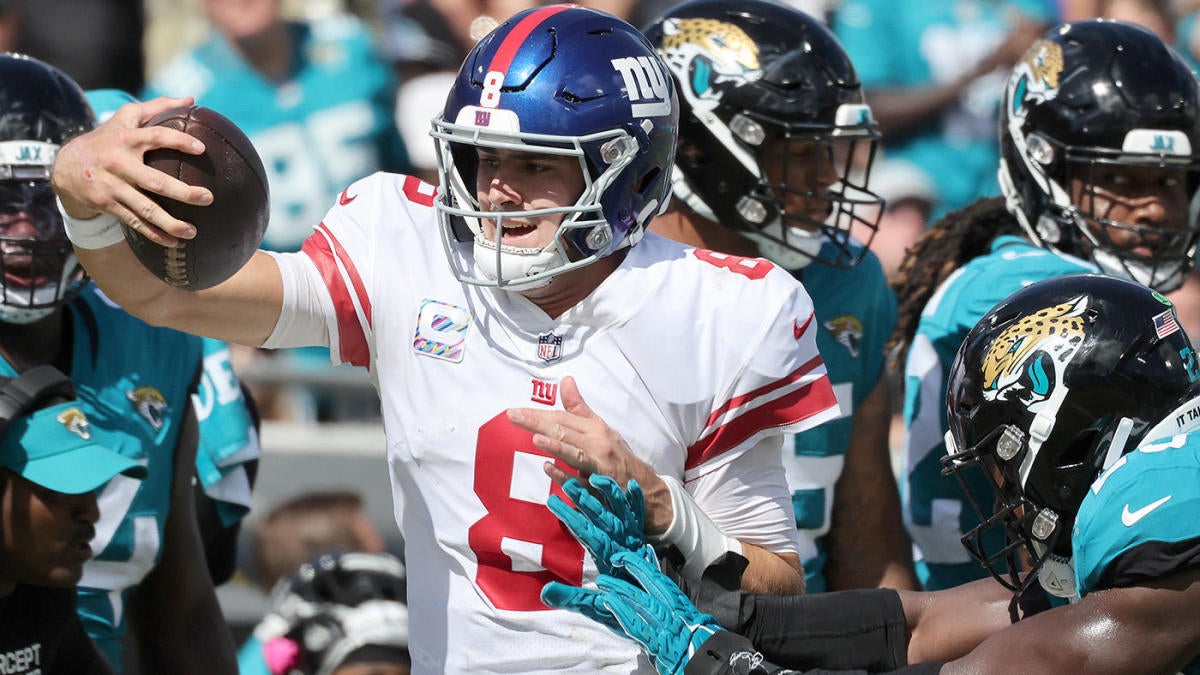 After Sunday, it seemed like the waiver posting for week 8 would be pretty simple: if Michael Carter is free, you'll be dumping loads of AMAZING things on him; if he wasn't, you would go with Gus Edwards. Light.
But the Jets' decision to trade James Robinson disrupted those plans. They lost Brice Hall for a season and their reaction was an immediate trade for the guy who used to be RB1. Why would you pay for Carter under these circumstances?
In his description of the Monday night deal, Dave Richard states that you probably shouldn't:
"Carter certainly deserves to be included in the roster, but he is unlikely to be better than the No. 3 running back, however long Robinson has been influencing. dreams of the Jets, but it is unlikely that it will be regularly used in important situations, such as at the goal line.
I don't necessarily agree, although you'll have to keep reading today's newsletter to understand why – in the industry, we call it teasing. Also in today's newsletter, you will find a message from Jamie Eisenberg. key goals for opting out in week 8 along with my initial ranking for each position. For more information about injuries and waivers, please make sure you tune in to Fantasy football today at CBS Sports Headquarters at noon ET today as we talk about the latest injuries and storylines. And for more help blocking your telegraph opt-out requests, make sure you subscribe to FFT channel on YouTubewhere we will answer your questions live for an hour starting at 20:00.
Tomorrow we will have previews of every position by Heath Cummings, as well as some trading tips coming in week seven. Send your trading questions to [email protected] with "#AskFFT" in the subject line. Here's what else we have in today's newsletter:
➕Top Week 8 Targets
📈First Look at Week 8 Ranking📉
➕Top Week 8 Targets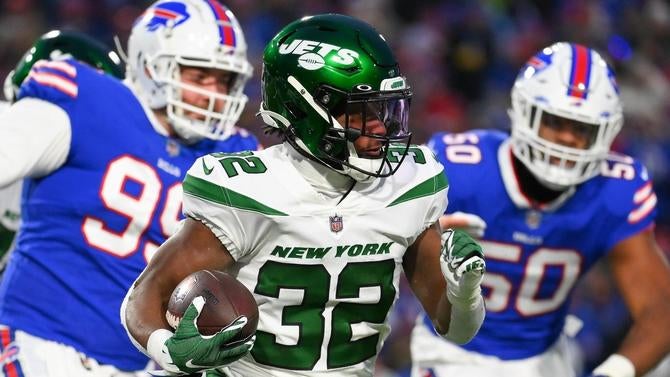 Here's where I disagree with Dave. Not too much, mind you, but I do think Carter is still a big prize thanks to the waivers in the 35 percent CBS Fantasy leagues where he is still available.
Mostly because I just don't think Robinson is a big threat at the moment. He broke a couple of long runs early in the season which made his numbers look pretty good, but even in those plays Robinson didn't look fast – he had big holes, he hit them hard and it gave him enough head start that the defense couldn't. overtake him. But he's done next to nothing since Week 3, when he threw a 50-yard touchdown and another 20-yard run, one of only four runs for at least 20 yards in his first three games.
His longest run since? 14 yards. Overall, 38% of his yards for the season came from those four runs, and since then he's averaged 3.7 yards per carry and 3.3 yards per goal in four games. He was so bad that the Jaguars didn't even give him a touch in Week 7 before trading him – he had one single target on his 12 snaps, a deep shot that Robinson never had a chance for, probably due to lack of speed. .
It's all to the point that if Carter shows a bit of life, I think he can get away with this job. Robinson will be there because the Jets want to use two guards, and he might even do enough goal line work to become a real thorn in the side of Carter's Fantasy value. But I rate Carter as the top 24 defensemen in week 8, and those players are usually not on the waiver list. You should take advantage of this if he's in your league.
Here are the rest of Jamie Eisenberg's work. main bounce targets in week 8:
Jamie Eisenberg's main goals
Michael Carter, RB, Jets
Gus Edwards, RB, Ravens
D'Onta Foreman/Chuba Hubbard, Defensive Guard, Panthers
Greg Dulcic, TE, Broncos
Daniel Jones, QB, Giants
📈Ranking of the 8th week📉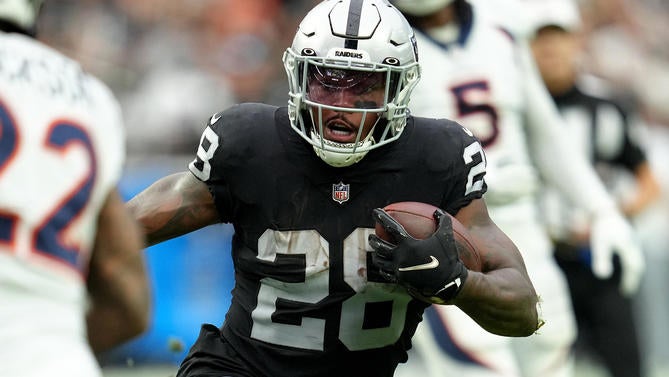 Here is my initial ranking for Week 8, but you should follow the links below for more of my thoughts on the 90+ players in Week 8 at defender, on the way back, wide receiveras well as difficult end. And they will be updated throughout the week, so make sure you keep them handy as you make your lineups. That's all for the PPR leagues:
Quarterbacks
Josh Allen @GB
Jalen Hurts vs PIT
Lamar Jackson @TB
Joe Burrow @CLE
Kyler Murray @MIN
Tom Brady vs BAL
Duck Prescott vs. CHI
Tua Tagovailoa @DET
Kirk Cousins ​​vs. ARI
Matthew Stafford vs. San Francisco
Derek Carr @NO
Geno Smith vs. New York
Justin Fields @DAL
Trevor Lawrence vs Den
Aaron Rodgers @BUF
Andy Dalton vs. L.V.
Taylor Heinicke @IND
Jared Goff vs MIA
Russell Wilson @JAX
Kenny Pickett @PHI
Daniel Jones @SEA
Marcus Mariota vs. CAR
Jimmy Garoppolo @LAR
Sam Elinger vs. WAS
Davis Mills vs. TEN
Jacoby Brisset vs. CIN
Mac Jones @NYJ
Ryan Tannehill @HOU
Zach Wilson vs. NO
PJ Walker @ATL
running spins
Saquon Barkley @SEA
Jonathan Taylor vs. WAS
Josh Jacobs @NO
Alvin Camara vs. L.V.
Derrick Henry @HOU
Christian McCaffrey @LAR
Leonard Furnett vs. BAL
Joe Mixon @CLE
Ramondre Stevenson @NYJ
Kenneth Walker vs. New York
Dalwyn Cook vs. ARI
Nick Chubb vs. CIN
Aaron Jones @BUF
Travis Etienne vs. OUR
Eno Benjamin @MIN
Darrell Henderson vs. San Francisco
Miles Sanders vs. PIT
Dameon Pierce vs. TEN
Ezekiel Elliot vs. CHI
Michael Carter vs. NE
Raheem Mostert @DET
Jamaal Williams vs MIA
Devin Singletery @GB
Naji Harris @PHI
Antonio Gibson @IND
David Montgomery @DAL
Tyler Allgaier vs. CAR
D'Onta Foreman @ATL
Gus Edwards @TB
Melvin Gordon @JAX
Tony Pollard vs. CHI
Nyheim Hines vs. WAS
Khalil Herbert @DAL
Chuba Hubbard @ATL
Brian Robinson Jr @IND
Karim Hunt vs. CIN
AJ Dillon @BUF
Latavius ​​Murray @JAX
Damien Harris @NYJ
Rex Burkhead vs. TEN
James Robinson vs. Den
Kiontay Ingram @MIN
James Robinson vs NE
Rachaad White vs BAL
Mark Ingram vs. L.V.
Jeff Wilson @LAR
Dontrell Hilliard @HOU
Craig Reynolds vs MIA
Kenya Drake @TB
Kenneth Gainwell vs. PIT
Alexander Mattison vs. ARI
JD McKissick @IND
Jaylen Warren @PHI
Benny Snell vs. CAR
Malcolm Brown vs. San Francisco
Chase Edmonds @DET
Samage Perine @CLE
DJ Dallas vs New York
Justice Hill @TB
James Cook @GB
Wide receivers
Cooper coup vs. SF
Justin Jefferson vs. ARI
Tyreke Hill @DET
Stephon Diggs @GB
Ja'Marr Chase @CLE
Davante Adams @NO
AJ Brown vs PIT
Chris Godwin vs. BAL
DeAndre Hopkins @MIN
Amon-Ra St. Brown vs MIA
Ty Higgins @CLE
Deebo Samuel @LAR
Mike Evans vs BAL
CeeDee Lamb vs CHI
Jaylen Waddle @DET
Chris Olav vs. L.V.
DeVonta Smith vs. PIT
Tyler Lockett vs. New York
Amari Cooper vs. CIN
Gabe Davis @GB
Michael Pittman vs. WAS
Brandin Cooks vs. TEN
Christian Kirk vs. DEN
Courtland Sutton @JAX
Terry McLaurin @IND
Jacobi Meyers @NYJ
Adam Thielen vs. ARI
Hunter Renfroe @NO
Jerry Judy @JAX
Van'Dale Robinson @SEA
Dionte Johnson @PHI
Brandon Aiyuk @LAR
George Pickens @PHI
Curtis Samuel @IND
DJ Moore @ATL
Rondale Moore @MIN
Michael Gallup vs. CHI
Allen Robinson vs. San Francisco
Josh Reynolds vs MIA
Romeo Dubs @BUF
Rashod Bateman @TB
Drake London vs. CAR
Darnell Mooney @DAL
Tyler Boyd @CLE
Chase Claypool @PHI
Ben Skowronek vs. SF
Alec Pierce vs. WAS
Robert Woods @HOU
Donovan Peoples-Jones vs. CIN
Zay Jones vs. Den
Darius Slayton @SEA
Garrett Wilson vs. NE
Marchioness Goodwin vs. New York
Isaiah Mackenzie @GB
Parris Campbell vs. WAS
Mac Hollins @NO
Devin Duvernay @TB
DeVante Parker @NYJ
Trent Sherfield @DET
KJ Osbourne vs Ahri
tight ends
Mark Andrews @TB
Dallas Goedert vs. PIT
George Kittle @LAR
Tyler Higbee vs. San Francisco
Pat Freiermuth @PHI
Zach Ertz @MIN
T.J. Hawkenson vs. MIA
Evan Engram vs. PINE
Robert Tonyan @BUF
Dalton Schultz vs. CHI
Kyle Pitts vs. CAR
Hayden Hurst @CLE
Foster Moreau @NO
Tyler Conklin vs NE
Juwan Johnson vs. L.V.
Mike Gesicki @DET
Dawson Knox @GB
Irv Smith vs. ARI
Taysome Hill vs. L.V.
Cade Otton vs BAL
Noah Fant vs. NEW
Kylen Granson vs. WAS
Greg Dulcic @JAX
Will Dissley vs. New York
Top 150 Flex Rankings
Cooper coup vs. SF
Justin Jefferson vs. ARI
Tyreke Hill @DET
Saquon Barkley @SEA
Jonathan Taylor vs. WAS
Josh Jacobs @NO
Stephon Diggs @GB
Alvin Camara vs. L.V.
Ja'Marr Chase @CLE
Derrick Henry @HOU
Christian McCaffrey @LAR
Davante Adams @NO
Leonard Furnett vs. BAL
AJ Brown vs PIT
Joe Mixon @CLE
Ramondre Stevenson @NYJ
Chris Godwin vs. BAL
Kenneth Walker vs. New York
DeAndre Hopkins @MIN
Amon-Ra St. Brown vs MIA
Ty Higgins @CLE
Dalwyn Cook vs. ARI
Nick Chubb vs. CIN
Aaron Jones @BUF
Deebo Samuel @LAR
Travis Etienne vs. OUR
Eno Benjamin @MIN
Darrell Henderson vs. San Francisco
Miles Sanders vs. PIT
Mike Evans vs BAL
CeeDee Lamb vs CHI
Dameon Pierce vs. TEN
Ezekiel Elliot vs. CHI
Jaylen Waddle @DET
Chris Olav vs. L.V.
DeVonta Smith vs. PIT
Mark Andrews @TB
Tyler Lockett vs. New York
Amari Cooper vs. CIN
Michael Carter vs. NE
Raheem Mostert @DET
Jamaal Williams vs MIA
Dallas Goedert vs. PIT
Gabe Davis @GB
Michael Pittman vs. WAS
Brandin Cooks vs. TEN
Christian Kirk vs. DEN
Courtland Sutton @JAX
Terry McLaurin @IND
Jacobi Meyers @NYJ
George Kittle @LAR
Devin Singletery @GB
Tyler Higbee vs. San Francisco
Adam Thielen vs. ARI
Naji Harris @PHI
Hunter Renfroe @NO
Jerry Judy @JAX
Antonio Gibson @IND
Van'Dale Robinson @SEA
Dionte Johnson @PHI
Brandon Aiyuk @LAR
George Pickens @PHI
Curtis Samuel @IND
DJ Moore @ATL
David Montgomery @DAL
Rondale Moore @MIN
Michael Gallup vs. CHI
Pat Freiermuth @PHI
Allen Robinson vs. San Francisco
Zach Ertz @MIN
Tyler Allgaier vs. CAR
T.J. Hawkenson vs. MIA
Josh Reynolds vs MIA
Romeo Dubs @BUF
D'Onta Foreman @ATL
Rashod Bateman @TB
Evan Engram vs. PINE
Drake London vs. CAR
Darnell…


Source: www.cbssports.com