I've been talking a lot about what lately has come to be called the 49ers' "math problem," but Monday's game against the Cardinals provided one answer to that equation: "What if they're just the best offense in the league? ?"
Deebo Samuel, Brandon Aiyuk and George Kittle threw five touchdowns together in a 38-10 win over the Cardinals, while Christian McCaffrey scored 17.6 PPR despite not scoring and once again trailing Elijah Mitchell by significant margins. carry. It's annoying, and it's getting harder and harder for McCaffrey to get to that truly elite 30 points per game mark, but it's hard to complain about that. too much almost 20 points without a touchdown.
Things won't always be this rosy for the 49ers, but on Monday night we saw the 49ers' blueprint for the perfect score – a balanced offensive approach that has seen each of their stars achieve great results. I still think that one of the big four will most likely not be involved in most weeks, but this offense looks like it will be a lot of fun until the end of the road.
Now it's time to look into the 12th week and things are going to be a little different this week because of the Thanksgiving holiday. Today's bulletin is normal, tomorrow will be too. But I won't have previews for every game this week – we'll have kickoffs and sit-ins ready for lineup lock on Thursday, and then I'll take the day off to cook, eat too much food, and force my wife, sister, and mother watch football all day.
Of course, you'll still want to make sure you tune in to Fantasy football today at CBS Sports Headquarters at noon ET today and every day this week as we talk about the latest injuries and storylines. And for more help blocking your telegraph opt-out requests, make sure you subscribe to FFT channel on YouTubewhere we will answer your questions live starting at 20:00.
Here's what the rest of today's newsletter has in store for you:
➕Top Week 12 Goal Goals
📈First Look at Week 12 Ranking📉
➕Top Week 12 Goal Goals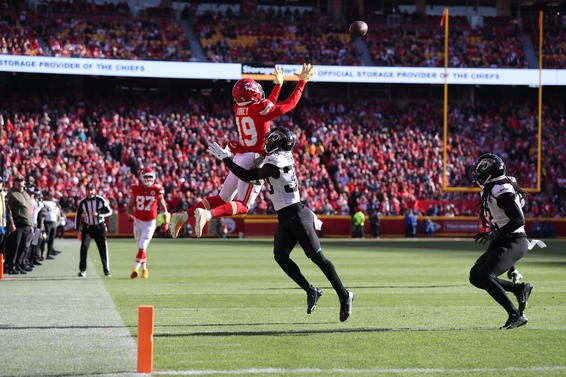 If you need RB help this week, we have a couple of guys who are fairly widely available who can help. Here Jamie Eisenberg's Top Rejection Goals in Week 12:
Jamie Eisenberg's main goals
Samaje Perine, RB, Bengals (15%) – Perine's worth is directly tied to Joe Mixon's status and I'll just note that the last time Mixon had a concussion, he missed two games. It doesn't necessarily mean that he will miss time this time, but there is certainly some risk and Perin is in the top 15 RB for me if Mixon is eliminated.
Latavius ​​Murray, RB, Broncos (62%) – Murray is not as attractive for Week 12 as Perine, at least at best. But his role is much more stable following the release of Melvin Gordon and Chase Edmonds' high ankle sprain. Murray is a decent RB2 for Week 12, mostly because the Broncos offense didn't give us much to worry about.
Donovan Peoples-Jones (70%) – in the last seven games – quite a significant sample size, Peoples-Jones has 80 shots, 1,231 yards, and he'll bring back Deshawn Watson from a suspension this week. 13. Peoples-Jones may become a mandatory starter for Fantasy WR in the future and he won't be available in any league after this week.
Trailon Burks, WR, Titans (32%) – Burks finally got a chance to show his edge in Week 11, passing 111 yards on seven catches. He is probably the best playmaker on this offense and hopefully his injuries are behind him and he is definitely a candidate for a breakthrough.
Greg Dortch, WR, Cardinals (15%) – I hope Rondale Moore's groin injury isn't too bad, but if it is, Dortch might just be a must-have starting option to move forward. In the four games Moore missed (including Monday's game where Moore played two snaps), Dortch is averaging 16.3 PPR per game. He was amazing when he was given the opportunity to play as a main slot.
📈Ranking for week 12📉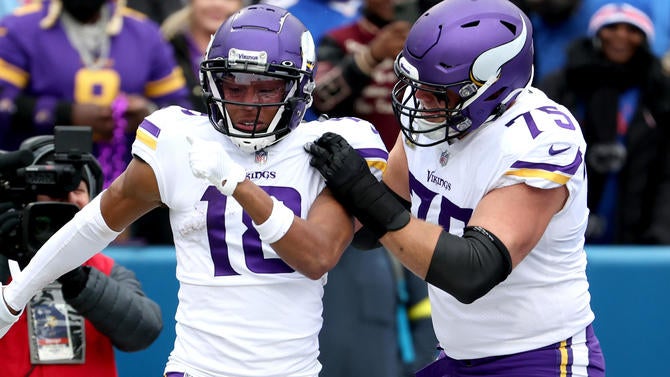 Here is my initial ranking for week 12 defender, on the way back, wide receiveras well as difficult end. And they will be updated throughout the week, so make sure you keep them handy as you make your lineups. That's all for the PPR leagues:
Quarterbacks
Josh Allen @DET
Patrick Mahomes vs. LAR
Jalen Herts vs GB
Tua Tagovailoa vs. HOW
Duck Prescott vs. New York
Lamar Jackson @JAX
Justin Herbert @ARI
Tom Brady @CLE
Geno Smith vs. L.V.
Joe Barrow @TEN
Kirk Cousins ​​vs. NE
Trevor Lawrence vs BAL
Derek Carr @SEA
Aaron Rodgers @PHI
Daniel Jones @DAL
Colt McCoy vs LAC
Russell Wilson @CAR
Taylor Heinicke vs. ATL
Kenny Pickett @IND
Andy Dalton @SF
Jacoby Brisset vs TB
Jared Goff vs BUF
Marcus Mariota @WAS
Jimmy Garoppolo vs. NO
Davis Mills @MIA
Matt Ryan vs PIT
Bryce Perkins @KC
Ryan Tannehill vs. CIN
Mac Jones @MIN
Zach Wilson vs. CHI
Baker Mayfield vs. Den
Trevor Simian @NYJ
running spins
Austin, thanks @ARI
Josh Jacobs @SEA
Christian McCaffrey vs. NO
Derrick Henry vs CIN
Jonathan Taylor vs PIT
Alvin Camara @SF
Kenneth Walker vs. L.W.
Aaron Jones @PHI
Ramondre Stevenson @MIN
Dalwyn Cook vs. NE
Travis Etienne vs BAL
Nick Chubb vs. TB
James Conner vs. LAC
David Montgomery @NYJ
Samaje Perina @TEN
Saquon Barkley @DAL
Dameon Pierce @MIA
Naji Harris @IND
Jeff Wilson vs. HOU
Tony Pollard vs. New York
Rachaad White @CLE
Antonio Gibson vs. ATL
Devin Singletery @DET
Miles Sanders vs GB
Jamaal Williams vs BUF
Latavius ​​Murray @CAR
Ezekiel Elliott vs. NEW
Cordarrell Patterson @WAS
D'Andre Swift vs. BUF
Michael Carter vs. CHI
Kenya Drake @JAX
D'Onta Foreman vs. D'Onta Foreman THEN
Jeric McKinnon vs. LAR
Isaiah Pacheco vs LAR
Elijah Mitchell vs NO
James Robinson vs. CHI
Bryan Robinson Jr vs. ATL
Rex Burkhead @MIA
Karim Hunt against TB
AJ Dillon @PHI
Chuba Hubbard vs. DEN
Damien Harris @MIN
Raheem Mostert vs. LOVE
Marlon Mack @CAR
Deon Jackson vs PIT
Dontrell Hilliard vs. CIN
Kyren Williams @KC
Cam Akers @KC
Justice Hill @JAX
James Cook @DET
Tyler Allgaier @WAS
Alexander Mattison vs. NE
Kenneth Gainwell vs. GB
Dwayne Washington @SF
Nyheim Hines @DET
Darrell Henderson @KC
Justin Jackson vs BUF
Jamikal Hasty vs BAL
Matt Braida @DAL
Caleb Huntley @WAS
Wide receivers
Justin Jefferson vs NE
Tyreke Hill vs. HOU
Stephon Diggs @DET
Davante Adams @SEA
DeAndre Hopkins vs. LAC
CeeDee Lamb vs. NYG
AJ Brown vs GB
Ty Higgins @TEN
Jaylen Waddle vs Howe
Amon-Ra St. Brown vs. BUF
Chris Godwin @CLE
Keenan Allen @ARI
Amari Cooper against TB
Mike Evans @CLE
Tyler Lockett vs. L.V.
Chris Olav @SF
Courtland Sutton @CAR
Deebo Samuel vs NO
Christian Kirk vs BAL
DK Metcalf vs. L.V.
Michael Pittman vs. PIT
DeVonta Smith vs. GB
Gabe Davis @DET
Allen Lazard @PHI
Donovan Peoples-Jones against TB
Terry McLaurin vs. ATL
Curtis Samuel vs ATL
Josh Palmer @ARI
Brandon Aiyuk vs NO
George Pickens @IND
Dionte Johnson @IND
Greg Dortch vs. LAC
Garrett Wilson vs. CHI
Tyler Boyd @TEN
Jacob Meyers @MIN
Christian Watson @PHI
Adam Thielen vs. NE
Darnell Mooney @NYJ
Jarvis Landry @SF
Parris Campbell vs. PIT
Nico Collins @MIA
Zay Jones vs BAL
Trailon Burks vs. CIN
Brandin Cooks @MIA
DJ Moore vs DEN
Darius Slayton @DAL
Drake London @WAS
Sky Moore vs LAR
Mac Hollins @SEA
Robert Woods vs. CIN
Michael Gallup vs. NEW
Marquez Valdez-Scantling vs. LAR
Allen Robinson @KC
Devin Duvernay @JAX
KJ Osbourne vs. NE
Marvin Jones vs BAL
Chase Claypool @NYJ
Justin Watson vs LAR
Terrace Marshall vs. Den
Julio Jones @CLE
tight ends
Travis Kelsey vs. LAR
Mark Andrews @JAX
T.J. Hockenson vs. N.E.
Dalton Schultz vs. New York
Pat Freiermuth @IND
George Kittle vs. NO
Tyler Higbee @KC
David Njoku vs. TB
Juwan Johnson @SF
Cole Farmer @NYJ
Evan Engram vs. BAL
Greg Dulcic @CAR
Hayden Hurst @TEN
Dawson Knox @DET
Robert Tonyan @PHI
Tyler Conklin vs. CHI
Trey McBride vs. LAC
Foster Moreau @SEA
Noah Fant vs. L.V.
Cade Otton @CLE
Mike Gesicki vs. HOU
Will Dissley vs. L.V.
Logan Thomas vs. ATL
Kylen Granson vs. PIT
Top 125 Flex Rankings
Justin Jefferson vs DAL
Austin Ekeler vs. KC
Saquon Barkley vs Saquon Barkley DATE
Josh Jacobs @DEN
Travis Kelsey @LAC
Derrick Henry @GB
Stephon Diggs vs. CLE
Christian McCaffrey @ARI
Alvin Camara vs. LAR
Joe Mixon @PIT
Jonathan Taylor vs. PHI
Tony Pollard @MIN
DeAndre Hopkins vs. San Francisco
Aaron Jones vs. TEN
CD Lamb @MIN
AJ Brown @IND
Dalwyn Cook vs DAL
Ty Higgins @PIT
Amon-Ra Saint Brown @NYG
Nick Chubb @BUF
Davante Adams @DEN
Ramondre Stevenson vs. NYJ
David Montgomery @ATL
Rondale Moore vs. San Francisco
James Conner vs. San Francisco
Chris Olav vs. LAR
Dameon Pierce vs WAS
Michael Pittman vs. PHI
Amari Cooper @BUF
Mark Andrews vs. CAR
Dibo Samuel @ARI
Courtland Sutton vs. L.V.
Josh Palmer vs. KC
Tyler Boyd @PIT
Terry McLaurin @HOU
Garrett Wilson @NE
Miles Sanders @IND
Dionte Johnson vs. CIN
Dallas Goedert @IND
Devin Singletary vs. CLE
Allen Lazard vs. ten
Curtis Samuel @HOU
DeVonta Smith @IND
Gabe Davis vs. CLE
Antonio Gibson @HOU
T.J. Hawkenson vs. Dal
Parris Campbell vs. PHI
DJ Moore @BAL
Naji Harris vs. CIN
Darnell Mooney @ATL
Kadarius Tony @LAC
Dalton Schultz @MIN
Jamaal Williams @NYG
Jacobi Meyers vs. NYJ
Christian Watson vs. TEN
George Kittle @ARI
Pat Freiermuth vs. CIN
Cordarrell Patterson vs. WHO
Adam Thielen vs. DAL
Brandon Aiyuk @ARI
Brandin Cooks vs. WAS
Donovan Peoples-Jones @BUF
Karim Hunt @BUF
George Pickens vs. CIN
Marquez Valdes-Scantling @LAC
Michael Carter @NE
Gerald…


Source: www.cbssports.com