NCAAB
Four-star senior guard Parker Friedrichsen discusses latest after getting scholarship release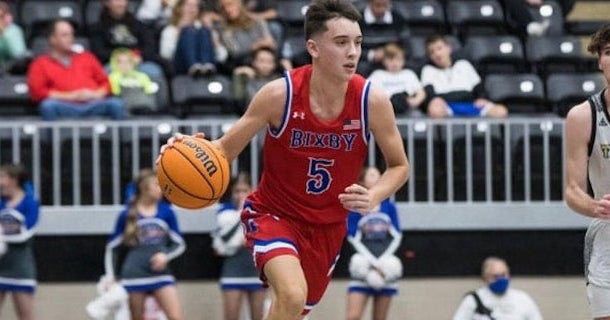 BICBY, Oklahoma. — The most accessible shooting guard on the board didn't expect to be available at this point in his senior year. However, Notre Dame's head coach Mike Bray decided this season would be his last and is now a four-star senior Parker Friedrichsen finds itself in the market.
Instead of waiting for the Irish to hire a new coach, the 6'3 scorer, who is ranked 99th overall by 247Sports, asked for and got his release.
"With Coach Bray, it was personal for him and I understand that, but I was definitely overwhelmed," Friedrichsen told 247Sports. "It's time to forget about it. I am happy for the coach, but now I have to find what is best for me, what suits me, and where it is convenient. It's really the big thing in the future, what's best for me." "
Although Friedrichsen is a good shooter, he is also good at creating dribbles for himself and others. Having gone through the hiring process early, he knows how to deal with challenges, but the whole idea of ​​signing early was to focus on finishing his high school career strong, and now he needs to find a balance.
"It's definitely a process and we're having a really good year," Friedrichsen said. "Now we are 17-4 and it is a balance, but I have been doing this for two years. You take the time to make it work and it's definitely hard when you don't expect it. But this is what it is. and you have to make sure you work with your team first and then talk to the coaches."
Since his release, Friedrichsen has heard directly from programs such as Creighton, Nebraska, Rice, Tulsa, and a few others. Wake Forest hit the ground running and was able to invite Friedrichsen to campus for an official weekend visit.
"It was an urgency (Wake Forest) as soon as I got my release," Friedrichsen said. "I was on the phone with Steve Forbes about 10 minutes after it went public and they didn't hesitate. The style fits, they throw about 30 threes a game. They are good people and I know people who know them, so I've heard good things."
Looking at schools, many of the things that mattered to him the first time are still a priority.
"I'm actually looking at the staff and the style," Friedrichsen said. "Yes, you've made it to the school, but more importantly, you're going for how employees believe in you and how you can make an impact, and the opportunities that await you. Location, conference, none of that matters to me. I just want to go to a place where I can be ready after basketball but also have a good career."
In addition, all this takes into account the fact that the transfer portal will open soon. Friedrichsen is not concerned about whether he can play at a high level, but he understands that many managers may prefer older players, so his initial plan is to move forward faster while there are opportunities.
"I'm definitely thinking about it, and it's in the back of my mind because I know it's about to open," Friedrichsen said. "I definitely don't want to compete with the portal, but the reality is that coaches want to get old and I understand and understand that. I do not plan to participate in this process in March."


Source: 247sports.com