Golf
Here's everything you missed this week in professional golf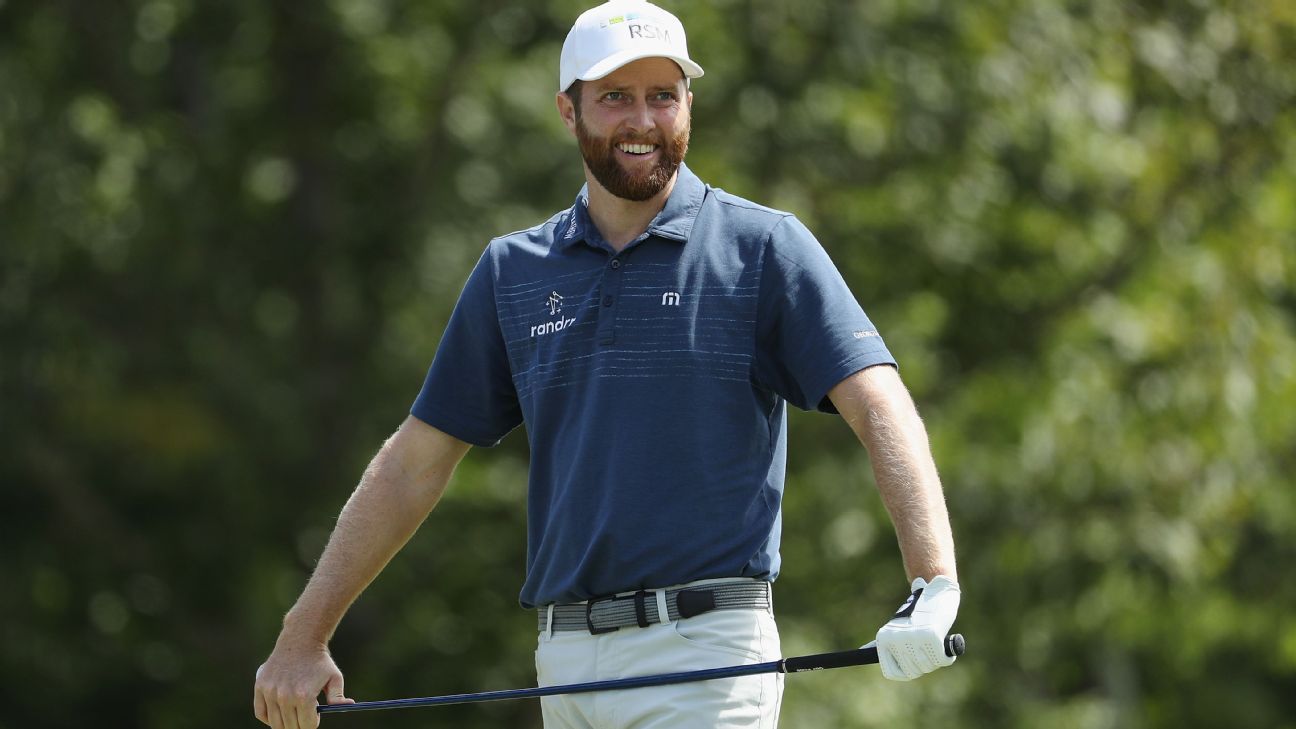 With the Honda Classic sandwiched between the four biggest events on the PGA Tour, it's no wonder its rankings lacked stars this past weekend.
Many of the tour's most recognizable names have played back-to-back tournaments at the WM Phoenix Open and Genesis Invitational, and they will do the same at the Arnold Palmer Invitational and Players in the next two weeks.
Even without Rory McIlroy, Justin Thomas, Scotty Scheffler, John Rahm and other stars in the field, the Honda Classic gave golfers some drama as Chris Kirk beat Eric Cole in the playoffs to win for the first time in almost eight years.
The season opener of the LIV Golf League in Mexico also had an unexpectedly nondescript leaderboard. Charles Howell III, who made a lot of money by rarely winning the PGA Tour, ran away with a 4-shot win to take his first LIV Golf win. Peter Whelain was second and Branden Grace was third.
While reigning Open Championship winner Cameron Smith finished sixth, many of LIV Golf's biggest stars such as Sergio Garcia, Phil Mickelson, Brooks Kepka, Dustin Johnson, Patrick Reid and Bubba Watson did not make it into the top 25 of the 48 players.
The LPGA Tour also returned to action last weekend, a month after the opening of the season, and Lilia Wu became the first winner, winning by one blow at the Honda LPGA Thailand.
Here's what else happened in professional golf last week:
What happened on the PGA Tour
Honda Classic
Winner: Chris Kirk
How he won: Holding a 1-stroke lead over PGA Tour rookie Eric Cole on the 72nd hole, Kirk nearly blew it when his on-set shot bounced off a rock wall and into the water. Cole finally showed some nerve as he fired his chip past the pins, resulting in parity. Kirk was able to bounce back from the scarecrow by triggering a playoff in which both players tied 14 down. After Kirk's tee shot in the first hole of the playoffs bounced over a tree, he hit and nearly hit it on the third. Cole landed his second shot into the bunker on the green and then his 10-foot birdie burst out. Kirk took his first PGA Tour win since winning the 2015 Charles Schwab Challenge.
What Happened on the LPGA Tour
Honda LPGA Thailand
Winner: Lily Wu
How she won: Trailing Thailand's Nattakritta Wongtavilap by 6 shots ahead of Sunday's final round, Wu scored 8-under-64 to finish 22 short, 1 shot better than Wongtavilap. After finishing third or better in three starts last season, Wu picked up her first LPGA victory with a no-bogey round. Wu, a former UCLA star, had two birds on the first three holes and then five in a row on holes 8-12. She took the lead with another birdie on the 15th par-4. Wu hit 11 of 14 fairways, 11 greens and just 21 shots.
"I just passed out today and tried to hammer every hole," Wu said. "If I didn't, just move on and try again. I went into the test tent and didn't know that I was shooting."
What happened in LIV Golf League
LIV Mayakoba
Winner: Charles Howell III
How he won: Howell, who has won three times in 609 PGA Tour starts, scored his first individual win in his sixth LIV Golf League start on Sunday. Howell had seven birdies through the first 10 holes while hitting 8-under 63 without a ghost, finishing 16 under and winning by 4 strokes over Peter Eilein. Howell, who won over $42 million playing on the PGA Tour, received another $4 million for the personal title. His Crushers GC team, led by Bryson DeChambeau, won the team event and earned another $3 million. The Crushers, which also includes Paul Casey and Anirban Lahiri, finished 26 down, 9 shots better than the reigning Tag Team Champion 4Aces GC. Defending individual LIV champion Dustin Johnson, captain of the 4Aces, finished 37th with 4 overs.
Kirk's return
Less than four years ago, in May 2019, Kirk took an extended leave of absence from the PGA Tour to focus on his mental health. Kirk said at the time that he had been battling alcoholism, anxiety, and depression for quite some time. He announced this the day before his 34th birthday.
The four-time PGA Tour winner has not returned to competition for over six months. Kirk said he's been sober ever since.
"Everything I have in life I owe to my sobriety," Kirk said Sunday. "I wouldn't make a living doing this anymore. I would probably no longer have the family that I have now. I was very close to losing everything that was dear to me.
"In order for this to happen and succeed for me, obviously, [were] some decisions I made, but mostly the grace of God and the many other people who really helped me along the way. But yeah, it's something I think about all the time, so it's pretty easy for me to understand that winning the Honda Classic is kind of a bonus when literally everything good that I have in life I owe to it."
It was Kirk's first victory in seven years, nine months and two days. Between the last two victories, he made 179 starts. Kirk played good golf this year. He placed third in solo at the Sony Open in Hawaii and tied for third at the American Express.
"I couldn't beat this guy in college," said Brian Harman, one of Kirk's Georgia teammates. "He had a really underrated career on tour. Coming back from what he struggled with and walking up the stairs again is a beautiful representation of his resilience and resilience."
With his latest victory, Kirk moved to 32nd place in the official world golf rankings. He also received an invitation to the Masters in April.
"I'm not going to lie to you," Kirk said. "This week I was ranked 47th in the world golf rankings and usually I don't really care, but I haven't played the Masters since 2016, I think, and grew up in Georgia, that means everything. So, I'm keeping a close eye on this world ranking, trying to stay in the top 50.
"But to take care of it this week, it will be something incredibly special. The last time I played, my two oldest sons, Sawyer and Foster, were maybe 2 years old, they just turned 2 and were about 4 months old. they can come back, they'll be 11 and 9, and then Wilder, my third son, will be 5. This par-3 contest can't start soon enough. I'm really looking forward to this. All week long, but just being able to make these memories with my wife and my kids will be amazing."
Breakthrough Wu
Wu was one of the most famous players to ever come out of UCLA. She was a three-time Pac-12 All-American Player of the Year and won eight times in college, more than any other player in school history. But after turning pro in 2019, she made just one cut in nine LPGA Tour starts and lost her card.
"I had a very negative mindset, even my first year here," Wu told reporters in Thailand on Sunday. "I didn't feel like I was in the right place. I felt like every blow was life or death. I was looking at the ball and setting up and didn't know where I was going to go because I was so nervous."
Wu played the Symetra Tour (now the Epson Tour) in 2021 and made 15 of 18 cuts. She had 10 top 10 finishes, including three wins. She finished first in points and was the Tour's Player of the Year. She thanks her late grandfather for helping her make a difference.
"I remember we were in Florida for one of the Florida Symetra events and flying home," Wu said. "I visited my grandfather before we even left and I thought he was doing very well. He was about to be released from the hospital. It was like the night before I left when he said to me in Vietnamese, "Go play well. you are the best.'"
Her grandfather passed away some time later.
"It just hit me that I was in a bad position with my golf and the last thing he ever said to me was, 'Play well,'" Wu said. "As of all things, he seemed to be struggling and he thought of me. I think that's what I think about every day."
Best of the week
best drive
Johnny Vegas crushed him.
DFZ: Divot Free Zone 💪@JhonattanVegas absolutely squashed that 353 yard drive! pic.twitter.com/UcGNuWoxTK

— PGA TOUR (@PGATOUR) February 25, 2023
Best Tee Shot
It must be Pat Perez's hair.
Pat Perez ALMOST turned it home for an ace 😮‍💨#LIVgolf @4acesgc_ pic.twitter.com/gj1z2Ns4PV

— LIV Golf (@livgolf_league) February 26, 2023
Best Approach
The same guy. The same shot. There is no windshield.
SET 🎯 https://t.co/hKvOvMgXQz

— Callaway Golf (@CallawayGolf) February 27, 2023
Best Chip
Dr. Chipinski delivers under pressure.
"We have to do this or we're going home."

Monday Qualifier Trace Crowe needed to contribute to his last hole to cut the number @HondaClassic.

This is the first recording Crowe has made on TOUR. pic.twitter.com/2ndg47cA1P

— PGA TOUR (@PGATOUR) February 25, 2023
The best sand shot
Tyler Duncan's birdie helped him finish third, his first top 10 finish on the tour since winning the 2019 RSM Classic.
Which frame from @TDuncGolf!

He probably secured the third solo finish behind birdie. @HondaClassic. pic.twitter.com/hA8WADgYIK

— PGA TOUR (@PGATOUR) February 26, 2023
best hit
Cole, a PGA Tour rookie, showed his composure for the first time Sunday playing in the final group. He has good genes; he is the son of former PGA Tour pro Bobby Cole and LPGA Rookie of the Year Laura Baugh.
70 feet to tie the lead! 🔥

Rookie Eric Cole, 34, joins Chris Kirk at the top of the leaderboard. @HondaClassic. pic.twitter.com/vtXh7q8tbf

— PGA TOUR (@PGATOUR) February 26, 2023
The best holiday
At least it's just water.
With her victory @hondalpgath, @TheLiliaVu punched her ticket for 2024/2025 @HiltonGrandVac Tournament of Champions! #HGVLPGA pic.twitter.com/RwtfW6OmTF

— LPGA (@LPGA) February 26, 2023
Best social networks
No kidding.
Great day for @AkshayBhatia_1 😆 pic.twitter.com/bFwttObEm3

— PGA TOUR (@PGATOUR) February 25, 2023
It's some kind of devotion.
If at first you don't succeed… pic.twitter.com/lk6h3FflCz

— PGA TOUR (@PGATOUR) February 25, 2023
This is NASCAR…


Source: www.espn.com