NHL
How Anthony Duclair wants to bring hockey to Haitian community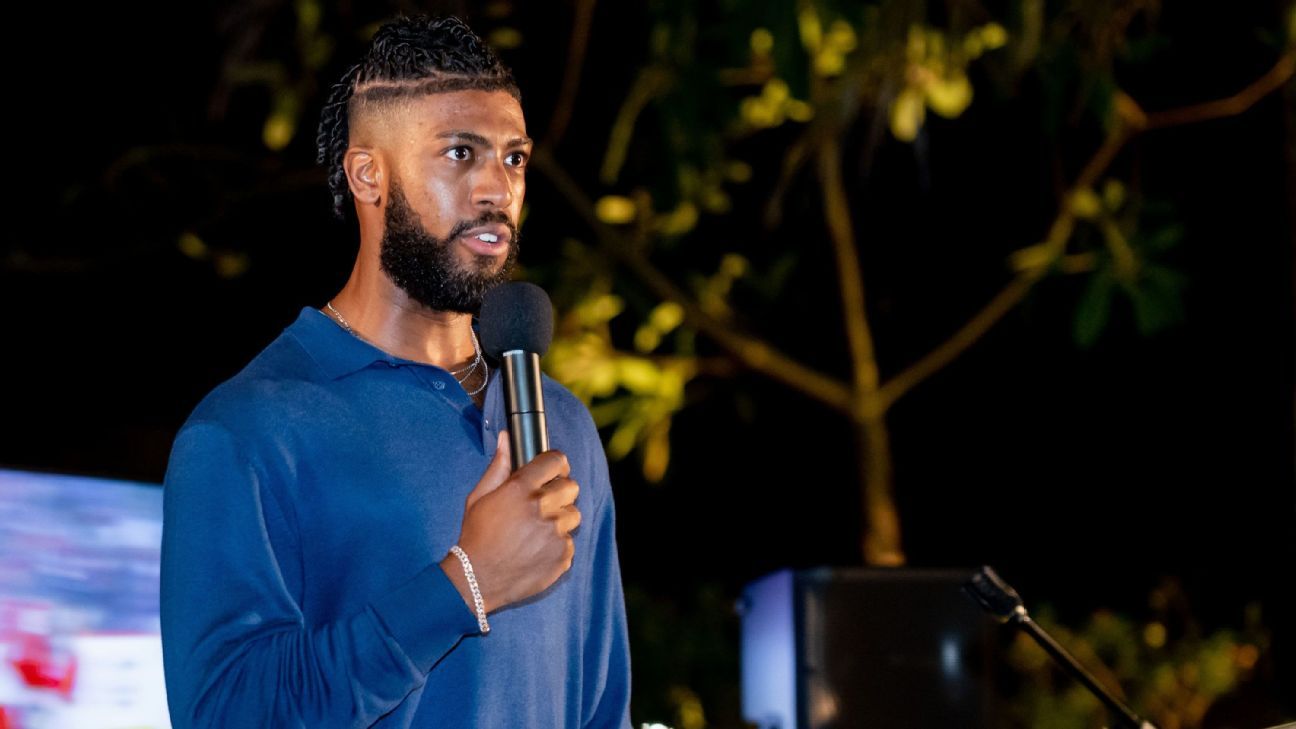 FORT LAUDERDALE. Anthony DuClair said it hit him right in the heart.
It was May 2021. Duclair played his first season with the Florida Panthers, the sixth team of his NHL career. He was browsing social media on his couch when he saw a tweet from Imran Siddiqi, who brought his 6-year-old son Musa to a bear assembly workshop. Musa, a Panthers fan, chose a soft toy and dressed it up as a hockey player.
Musa named the bear Duclair. He told his father it was "because he's swarthy and plays hockey like me."
Duclair had seen young fans express their admiration for him before. This is a different blow.
"It was just… chills," DuClair said. "It hit me right in the heart."
Took the kids out for soft toys and son is a hockey fanatic thanks to 2021 @FlaPanthers – chooses a bear, dresses him in a hockey suit and names him after DuClair @aduclair10, his favorite player, whom he loves. Why? -> because "he's swarthy and plays hockey like me." 😆❤️ pic.twitter.com/I4H5Pk0cNk

— Imran Siddiqui (@ImranSiddiquiFL) May 23, 2021
This moment was one of many (some good, some unfortunate) that inspired the 27-year-old NHL player to create the Anthony Duclair Foundation with the goal of bringing hockey to low-income, diverse communities, starting with those in the Panther market. .
"Now we lack representation in this league. It's hard to grab onto something when you don't know what it is," DuClair said. He timed his foundation's debut to coincide with NHL All-Star Weekend in South Florida and the start of Black History Month.
"It won't be just a base for another player. I will be very practical in this. I will be there as long as I can and will definitely be there for these kids," he said.
While he wants to make hockey accessible to everyone, DuClair said he especially wants to help develop the sport in South Florida's Haitian community. Both of his parents are from Haiti.
Ducler visited the Little Haiti area of ​​Miami. He wants to build hockey rinks there, organize hockey camps, and possibly subsidize ice hockey costs for young players in the community.
But most of all, he wants to have a personal presence at the same time.
"I want to do something tangible. Not disposable," he said. "I look forward to building relationships with these kids. To hear their stories as I tell them my story."
---
DuClair's story begins in Montreal, where, in his words, "you get put on skates, whether you like it or not." His father put him on skates at the age of 2. DuClair discovered that he didn't just like hockey, he loved it.
"Whatever sport you do, you just want to play. Make yourself happy. Make others proud of you. For me, it was hockey," DuClair said.
Duclair will be the only black player on his youth hockey team. His family were often the only black fans in the stands.
"As a child, you don't see color. Until you are reminded of it," he said. "Being black, being Haitian and playing hockey – which we all know is a predominantly white sport – I have many great memories. It has opened so many doors for me and my family. came with great pain. Some of the worst memories that I carry with me to this day. An experience that has haunted me throughout my life."
For example, when Duclair was 8 years old, and his parents at the youth games made monkey gestures for him. For example, when opposing players will use racial slurs against him.
"Things like that get into your head. This leads to many sleepless nights," DuClair said. "As blacks, we learn to internalize things. You feel like you can't communicate with anyone. That you can't talk to anyone. For me, that was my childhood. There was a part of me that absolutely hated it. And I know I'm not the only one."
DuClair hopes that by telling their story, young players of color will know they are not alone.
"Parents tell me that their kids want to quit hockey because of the incidents that my little brother and I went through," he said. "I want to make sure the other kids know that I got over it and that they can get over it to go where they want to go in life. To not be stopped by racial gestures and the like."
Duclair began planning the foundation in the final off-season, although the idea had been in his head for years. The Panthers' Brett Peterson, the NHL's first black assistant general manager, came to him last August and said they needed to do something for Black History Month, especially with the Sunrise All-Star Game.
"My mind started to spin and it wasn't difficult to create my own foundation. To help the next generation and tell their story," DuClair said.
He reached out to Thomas Eugene Jr., Senior Director of Diversity, Equity, Inclusion and Multiculturalism at Panthers. Eugene suggested several communities where the foundation's efforts should be focused: Little Haiti, North Miami, and Liberty City among them.
DuClair had time to work on his vision due to some unfortunate circumstances. After a breakthrough 2021/22 season that scored 31 goals – a career high – DuClair underwent surgery in July to repair an Achilles tendon injury. He is yet to appear in a game in the 2022-23 season, although Florida expects him to return to the roster soon. During his recovery, DuClair squatted down to find ways to carry out his foundation's plans.
The night before the NHL All-Star Game, Duclair hosted a gala cocktail on the rooftop of a hotel in Fort Lauderdale to celebrate the launch of the foundation. Teammates, friends and fundraisers were in attendance. So are the members of the Hockey Diversity Alliance, a player-led organization created to "root systemic racism and bigotry in hockey." Duclair is one of its founders.
The launch was successful. The Panthers donated $100,000 to the DuClair Foundation. The NHL Players Association donated $50,000 in funds and equipment through the NHLPA Goals & Dreams program.
"This guy leads with his heart," NHLPA's Chris Campoli said of DuClair. "It is clear. I work on industry development and youth hockey in partnership with the NHL. South Florida is a place where we can do a lot."
DuClair hopes to organize a hockey camp this summer at the Panthers' IceDen practice facility. Meanwhile, he's scheduled to camp with Bokonji Imama of the Arizona Coyotes at the skating rink in Pierrefonds, Quebec, where he skated as a youngster.
Whether it's Canada or Florida, DuClair said it's vital to give young athletes the opportunity to learn the game – and know they're not alone if they experience what he's done.
"So many communities and so many ethnic groups know nothing about hockey. These are the underserved communities I want to reach out to and lend a helping hand," he said. And let them know they are loved. And that they are supported.


Source: www.espn.com