Boxing
Jake Paul vs. Tommy Fury fight prediction, odds, undercard, preview, start time, expert picks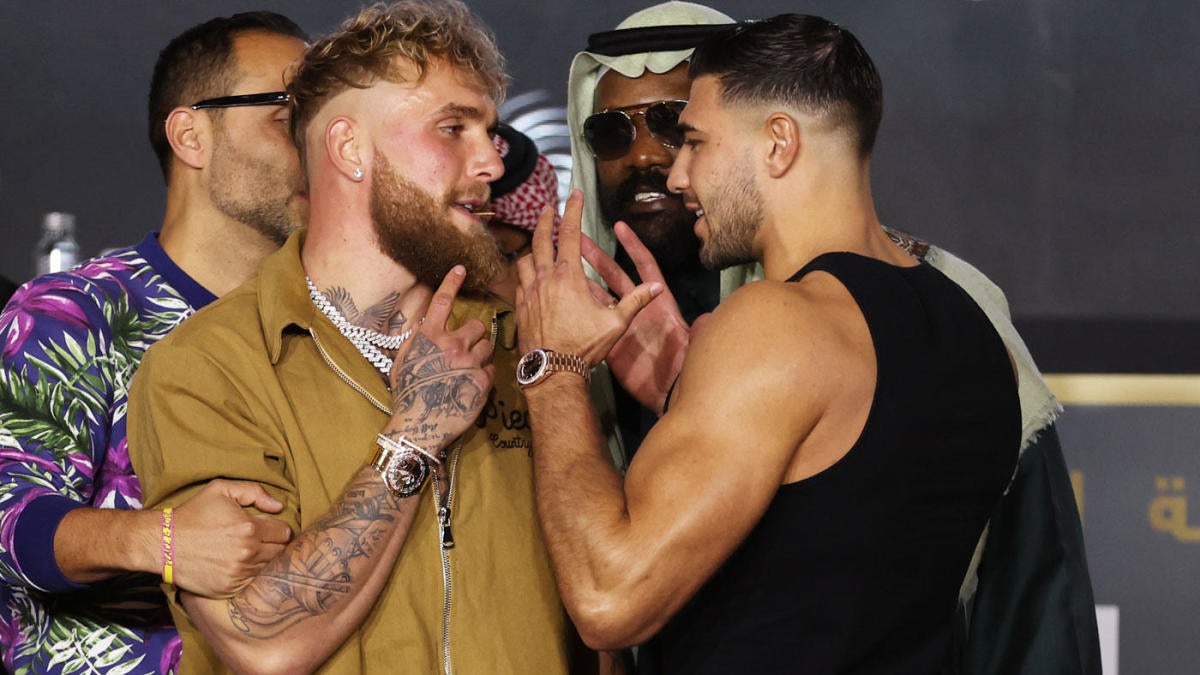 On Sunday, Jake Paul and Tommy Fury will finally enter the ring to fight one on one. The fight is the third attempt to bring into the ring a brash young man known more for his non-boxing exploits than his fighting career.
The fight has been labeled "The Truth" by the promoters and perhaps there will be no more appropriate label as much will be revealed about both Paul and Fury (Sunday 2:00 pm ET ESPN+ PPV).
Despite a constant stream of criticism from boxing "traditionalists", Paul has shown himself to be a dedicated boxer who uses his resources gained from his time as an actor on the Disney Channel and a successful career as an influencer to organize serious training camps. However, his profile has resulted in an unconventional roster of opponents because he cannot compete with the low-level, nameless competition that constitutes the start of almost every professional boxer's career.
Paul started his career with a first-round win over fellow social media influencer AnEsonGib before knocking out former NBA star Nate Robinson with a viral knockout. He then set his sights on stars from the world of mixed martial arts, knocking out an out-of-shape and unmotivated Ben Askren ahead of a split decision against former UFC welterweight champion Tyron Woodley.
When Fury's first scheduled fight fell through due to Fury's injury, Paul rematched Woodley and scored another devastating knockout. Another fight with Fury was canceled at the end of 2022 when Fury was denied entry to the United States, causing Paul to set up a fight with Hasim Rahman Jr., but that fight also fell apart when Rahman disagreed with the weight limit in the contract. he signed up for the fight.
Can't get enough of boxing and MMA? Get the latest martial arts news from two of the best in the business. Subscribe to Morning Kombat with Luke Thomas and Brian Campbell for the best analysis and detailed news.
The scheduled fights with Fury and Rahman were an attempt to answer one of the common criticisms of Paul's career: he had never been in the ring with someone who had trained for years as a professional boxer.
In his next fight, Paul followed up with someone who made it big in the boxing ring, taking on UFC legend Anderson Silva last September. Silva had previously defeated former middleweight boxing champion Julio Cesar Chávez Jr. and presented an interesting challenge with his height, clumsy style and legitimate skills despite having spent most of his life in mixed martial arts.
Paul knocked down Silva late and took a decision win, but again faced criticism for not being a "real boxer" and also for taking on the 47-year-old. As such, Paul returned to fight Fury the last time the fight was held in Saudi Arabia, avoiding ongoing visa issues for the Fury family due to their alleged ties to alleged crime boss Daniel Kinahan.
Fury, known as the younger half-brother of heavyweight champion Tyson Fury and his appearance on the TV show Love Island in the UK, has a more traditional boxing career than Paul, although whether this is the best indicator of future boxing success. is subject to discussion.
Fury's eight professional opponents had an overall record of 24-176-5 when they faced Fury, with nearly every one of these opponents operating as "professional opponents" and their careers revolving around losing to fighters seen as prospects.
In his last fight, Fury faced Daniel Bocianski, who came in 10-1, although he had lost by technical knockout in the previous fight. Fury made the decision in a rather boring fight in which he scored one knockdown even though neither fighter did anything else in that fight.
So we finally see these two men, none of the really experienced boxers, both with resumes that don't stand up to scrutiny, ready to finally fight to uncover a little of the "Truth".
At the pre-fight press conference, Paul suggested an "all or nothing" bet on the fight that if Fury won, Paul would double his wallet. But if Paul wins, Fury won't get the money.
Eventually the bet was accepted by Fury's father, John Fury, who said, "If he can't beat Jake Paul, Tommy doesn't deserve [to be] paid."
Of course, these kinds of arrangements are often thrown around, but in the main they are never implemented in practice. Fury is making far more money from this fight than any previous fight, and the thought of him leaving Saudi Arabia with a loss seems unlikely.
Let's take a look at the rest of the fight card with the latest odds from Caesars Sportsbook before moving on to the main event prediction and expert picks.
Paul vs Fury card odds
| Darling | outsider | Weight category |
| --- | --- | --- |
| Jake Paul -170 | Tommy Fury +145 | Heavyweight (catch weight 185 lbs) |
| Junior Gifts (c) -1 | Badu Jack +160 | WBC heavyweight title |
| Bader Samrin | Viorel Simion | Easy |
| Muhsin Kason | Tariel Jafarov | Heavy weight |
Forecast
It is worth noting that this is quite a suitable fight for both men from a competitive point of view. Both have proven themselves capable of withstanding the level of competition they have fought before, and both have the funds and resources to set up comparable battle camps. Between the vicious trash talk and doubts about the true qualities of both fighters in the ring, there is a really well-chosen fight between two young fighters who need an opponent of exactly the level that they will face on Sunday.
Fury probably has a slightly better technical approach to the fight, but he has shown an inability to really step on the gas pedal against some low-level opponents in his career. His jab is very good and may be the biggest hurdle for Paul to overcome. If Fury can hit early and keep it in Paul's face, it could be enough to score points on the scorecard.
Meanwhile, Paul has legitimate one-punch knockout power. He is clearly better at fighting than fighting, showing a willingness to learn and grow, as well as an underestimated adaptability during fights. Paul is good at processing information and using it to set up big punches, and he still tends to hit the body. Paul, however, can get caught in a stretch when he simply doesn't throw enough punches, looking to land a bombing right hand.
Whatever you say about Paul's opponents so far, he has fought a number of men who weren't afraid to compete on the biggest stage and entered the ring with the hope that they would win the fight. Paul was able to handle these men and grew up during that time. Fury has yet to face an opponent who truly poses a threat to win the fight.
With Paul being a naturally bigger man with a more aggressive approach to fighting, it seems like the right thing to side with him to win the grudge match. It's also worth noting that Paul has gone eight rounds – the duration of this fight – twice, while Fury has only gone six full rounds once. Paul's body shots can play a big part in how this ends. Pick: Jake Paul TKO5


Source: www.cbssports.com