NCAAF
March Madness 2023: FDU vs. Purdue leaves Knights coach Tobin Anderson, players buzzing over historic upset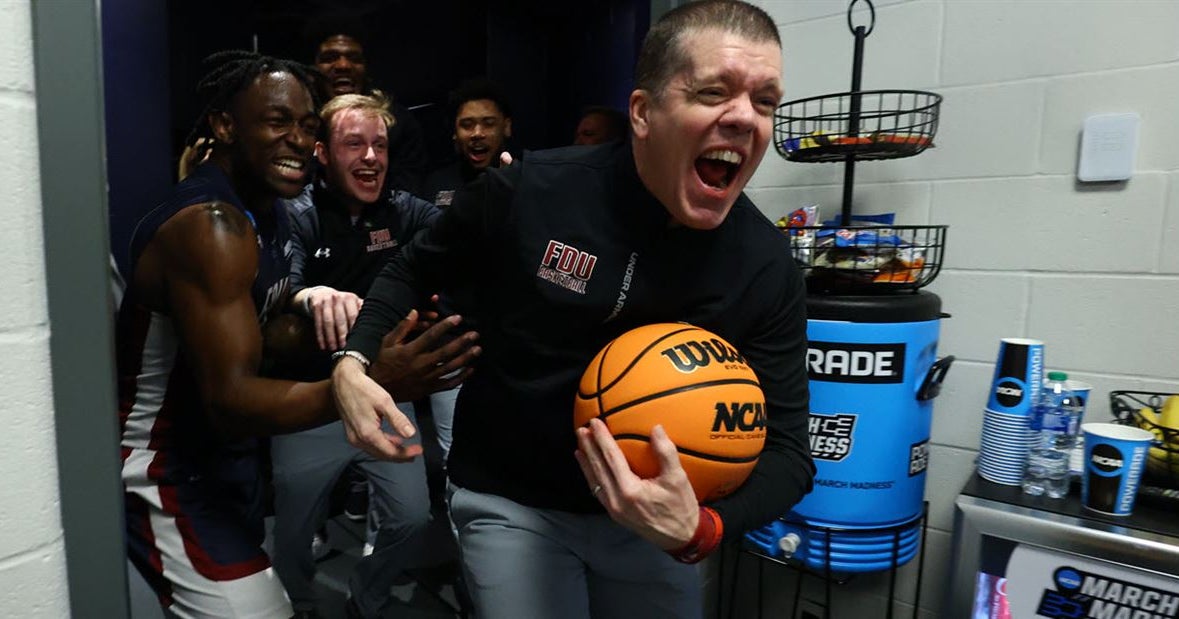 FDU men's basketball and head coach Tobin Anderson pulled off arguably the biggest NCAA tournament flop all Friday night, defeating East Region's top seed Purdue 63-58 to kick off the first round at the National Arena from Columbus, Ohio. By eliminating Big Ten champion Boilermakers (29–6), the Knights (21–15) became the second No. 16 seed to make it past the first round of March Madness.
Sean Moore the Knights led with 19 points on 7-of-17 shooting, as well as five rebounds, one steal and two blocks in 28 minutes of play. Demeter Roberts And Cameron Tweedy also scored double-digit numbers: 12 and 10, respectively.
But the history of the game was FDU's defense as the Knights used full-court pressure to force Purdue to complete 16 passes. The Knights limited the Boilermakers to just 35.8% shooting from the field and 19.2% from three-pointers, which kept them from shooting for more than five consecutive minutes. All-American center Zack Eday finished with 21 points, 15 rebounds and three blocks but missed in the final 8:32 of the game.
Get the fastest results, stats, news, live videos and more. CLICK HERE to download the CBS Sports mobile app and get the latest on your team today.
After Anderson's game he was joined by Moore, Roberts, Tweedy and Grant Singleton at a post-game press conference to discuss the monumental upset. That's all the knights had to say.
Head Coach Tobin Anderson
opening speech:
"What tonight. Incredible victory for us. Incredible victory for our program, our school. It's hard to put into words right now. Honestly, it's really hard even – it just happened, right? But I credit Purdue with incredible credit. It's a Big Ten powerhouse, then what they're doing there is unbelievable the last couple of days I've been a bit uneasy about what I said in the locker room because it was almost disrespectful to Purdue I have incredible respect for Purdue I thought they were calling great respect.
"For us to beat them tonight, in this environment, it was just an incredible victory for us. I am so proud of the guys, of what we have done, what we have achieved so far, and just an incredible night. I thought it was hard to play against our style. I'm sure the Big Ten teams don't press that hard. Our speed, our speed. …my dad was a big boxing fan – style decides fights. And our style, it seemed to me, touched them a little. I thought the pressure, the fast pace, the speed, the quickness and our guys just – I mean, they protected their tails and played great. Incredible victory. We are very glad that we survived, moved forward and move on."
On his viral dressing room video after the First Four game saying he thinks they can beat Purdue and what he saw that made him and his assistants think they could be beaten:
"I'm not sure how much I meant it. I wanted our guys to believe. As a coach or leader, you are trying to get them to believe in what we do, how we do it. If I go in there, tell me – I won't say anything. I'd rather it didn't have a camera. It was the right message, the wrong audience, that's what I would say. I would say that without a camera there.
"I didn't mean to upset Purdue. It wasn't an idea at all. But it has to be a message. We are trying to win the next game. We just can't be happy being here. And the guys have to believe. You see these guys. Demetra Roberts of Mount Vernon. I'm not sure I should tell him about it. I think he believes – no matter what, he believes that he is the best player. Grant is the same. And Sean starts to come to his senses. They think they should be there.
"And it's fun to be around these guys. But I definitely wanted to get it across to them. We're here to… we're a little annoyed. Each of us has a chip on our shoulder. People say we shouldn't be here, we shouldn't be in the tournament, and all that stuff that we should be listening to. We want to prove that people are wrong. I think now people see that we belong to each other. Here's the thing, we're getting better too. We have played very well in the last two games. And this is the merit of our guys. We are definitely getting better. And that's an exciting thing."
At work, his team defended Purdue center Zach Edie, and if they did everything he wanted them to do against him:
"We talked about it before the game. In his victories and defeats, he scores the same number of points on average. It's like 24 for their wins and 23 for their losses. If you look at wins and losses, it's the other guys around him. In their losses, these guys play badly. In their victories, these guys play well.
"What did he score today? He got 21. Right? Thus, he still scored a few points. We made him uncomfortable, but did a great job on everything else. It was an idea. He's going to score some points. He's going to take a few shots. We're going to make him guard, make him run. But then they got tired. Then sometimes you just tell your team just to tell them they're tired. But in the first half they looked a little tired. And our guys saw it. And I think that gave us a little confidence.
"Our post guys, Cameron Tweedy, how much is 6-5, 6-6? Ansley – 6ft 5in, 6ft 6in? We are the shortest team in the country. But we made it uncomfortable. And the things he did were not simple baskets. I don't think he ever felt terribly comfortable. And it was just great teamwork. We're covered in paint. We got away from some shooters. Let's make them do 3's, but don't give them 3's – make them do 3's. Just incredible teamwork.
"Our guys have been so busy. It would be very easy to come here and say, "Good win the other day," especially when you come here before halftime, okay, we're already on halftime. It's nice. We just kept coming, you know? At some point they got up at five. Could leave. It looked a little like we were on edge. The crowd went crazy. We continued to resist. It's character."
On throwing a little bit of everything at Purdue with all-court pressure and a 3-2 zone, having two pairs of hands on Zach Edie all game, and how they use that win to carry that momentum to Sunday:
"I mean, we should be – Purdue – if we play Purdue, it's like that wonderful speech in hockey. Everyone sends hockey speeches and Hoosier speeches all day long. If we played them 100 times, they would probably beat us 99 times. Let's play them 100 times, we have one victory. But tonight we had to be unique, we had to be unorthodox. We had to make life difficult for them, just be different.
"I think that such a victory is great before going to the next round. Every time you win. Alternative – we're going to go home. It helps our confidence, helps our faith in what we're doing, and we'll get ready for Sunday. Now I have some laundry to do, but we'll be ready by Sunday. I have faith, but I'm not sure I believe that much. I need to do some laundry."
On the Perdue-related storyline, whether their freshman guards could make it to the NCAA tournament, and how much he wanted to pressure them to see how they would react to their first tournament game:
"First of all, we have two great fifth-year senior quarterbacks, Demetre and Grant, who have been Division II quarterbacks for four years, but they…their track record continues to improve. They are not used to it. But they are used to big games. And I think it's hard for freshmen to play against two fifth years who know how to play and win. Our press, what we do, it's hard to prepare for the pressure, the press in two, three days.
"We won two days ago, they had 48 hours, I'm sure they prepared a little. But we always play like this. Our press was able to give them a lot of problems. This is what we do. You can't just start pushing all of a sudden and be good at it. We had press for a whole year. We still made mistakes today. We did some things that we can fix on Sunday. But I thought we…


Source: 247sports.com