Boxing
Showtime Boxing results, highlights: Tim Tszyu viciously stops Tony Harrison, calls out Jermell Charlo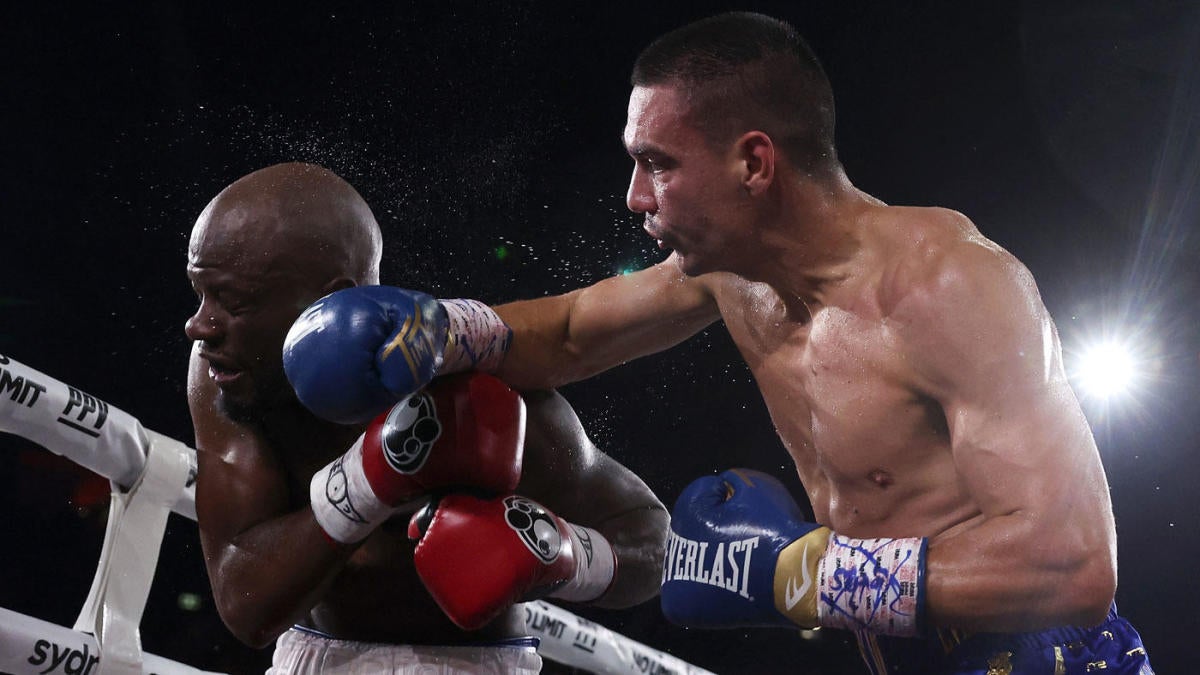 Fighting in the shadow of his Hall of Famer father and undisputed champion of his division, undefeated junior middleweight Tim Tszyu used Saturday's comeback against Tony Harrison to send a message.
Tszyu (22-0, 16 KOs) relied on poise and deliberate pressure to slowly break Harrison (29-4-1, 21 KOs) before celebrating the biggest win of his career with a brutal late fight stoppage. In a 9th round TKO at the Qudos Bank Arena in Sydney, Australia, Tszyu won the interim WBO title and secured four world junior middleweight titles for Jermell Charlo.
After the fight, Tszyu put a resounding exclamation mark on his statement, amusing his native crowd with an impassioned speech.
"I have one suggestion: what is my mother's name?" Tszyu said. "That's what the hell it's all about, each of you. What is my name? Say my name!"
Tszyu, 28, was originally scheduled to face Charlo in January before a left hand injury forced the champion to pull out. Instead, Tszyu decided to stay busy against 32-year-old Harrison, a former WBC champion who remains the only fighter to beat Charlo.
Charlo (35-1-1, 19 KOs) watched from a New York studio as a special guest on Showtime Boxing International, Tszyu returned to be a much more effective and focused fighter than last March, when he lost in the first round. against Terrell Gausha in his US debut before fighting back to demand a hard-fought decision.
Tszyu staggered Harrison halfway across the ring in the 3rd round with a looping right hand riposte that forced Harrison into a defensive stance for the rest of the fight. Not only was Tszyu able to pin Harrison to the ropes with ease, he was patient enough to keep his distance to keep his opponent from getting away.
In the 9th round, Harrison's walls finally began to crumble as three hard right-handed strikes hurled him into the ropes. Tszyu stormed in and landed four of the five right uppercuts he landed in a row before a furious right cross took down Harrison.
Referee Dunrex Tapdasan, who allowed Harrison to take too many punishments before the knockdown, waved the fight off at 2:49 after Harrison got to his feet to beat the count, but remained unsteady.
"He was impressive. He did what he had to do at home," said Charlo. "He was a little flat with me, but my movements, my style and my strength will make him do completely different things. [left] right hand and return to the ring for training, insert this tape. It will work.
"This is exactly what we saw. He moves forward, but not as fast. He is certainly strong, but aren't we all like that? I'm a different animal there than Tony."
Tszyu appeared to dominate most of the fight, but was only leading 77–75 on all three cards at the time of the stoppage. According to CompuBox, he led Harrison by 131 to 78 and landed an impressive 45% of his power shots. Tszyu also had a 29:7 lead in body hits, further slowing Harrison down.
"I was smart. I knew he had the jab so I had to be smart about it," Tszyu said. "The opponent I had in front of me was a man who beat a man. But I just defeated this person, so what does that make me?"
Although Harrison was successful with his jab, he seemed tired to let go of his right hand given the distance Tszyu was operating from. Of the four losses in Harrion's professional career, all four were early.
"I trained very hard for the fight, but today the strongest won," said Harrison. "He will go to bigger and better things. I don't know where I'm going from here."
When asked after the fight if Charlo would be next, Tszyu agreed.
"Message [to Charlo] was sent clearly," Tszyu said. You know what happened, you know what will happen next. I'm going to America."


Source: www.cbssports.com