NCAAB
The Draftables: Every NBA-ready prospect playing in the NCAA tournament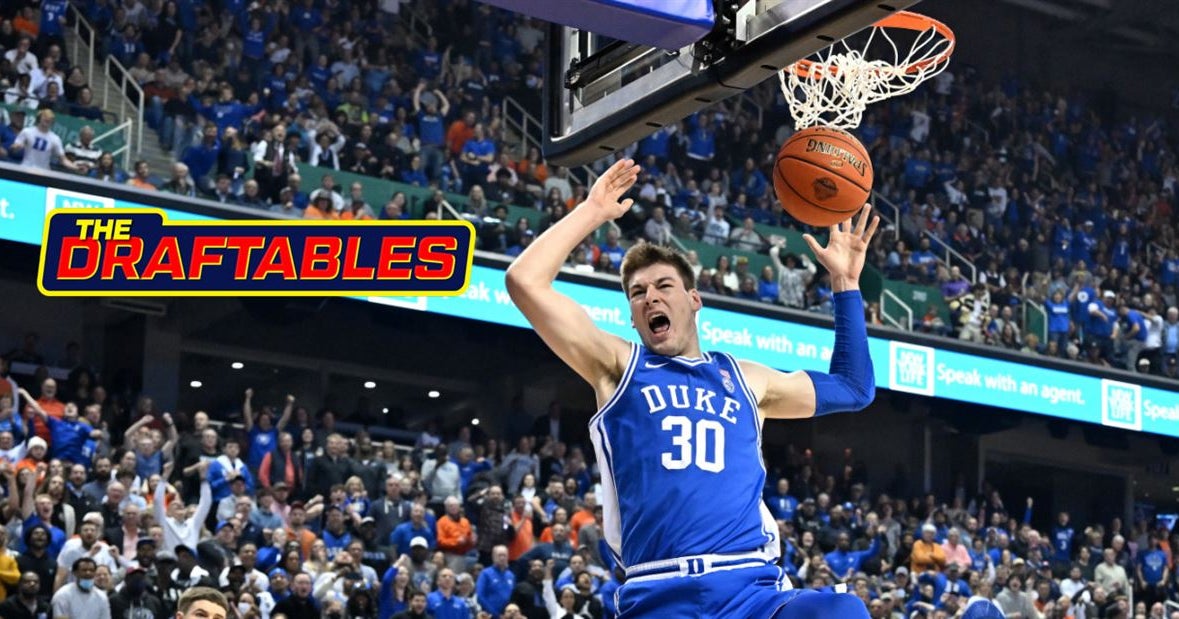 Over the past two days, we've broken down the top college basketball players in the NCAA Tournament by region (East, West, South, and Midwest). But as we've seen this year, there can be a huge difference between the best college players and the best prospects in the NBA.
Throughout the year, The Draftables provided a comprehensive list of college basketball prospects in the NBA. These athletes were divided into five categories: potential lottery candidates (designated as "Lottery"), potential first round candidates (R1), potential second round candidates (R2), players who could have received invitations to the preliminary competitions, such as the Portsmouth Invitational. G-League (G-League) tournament or elite camp and prospects that show the growth potential of the NBA in future years (Future).
However, our latest version of The Draftables only included the first three categories. This is because they are the only players who have a legitimate chance of being drafted this year.
Now, this special edition of The Draftables will use previously announced categories to showcase NBA-ready talent playing in the NCAA Tournament this year.
No. 1 Alabama (2)
Brandon Miller: 6-9, Fri, Tue, Lottery
Noah Clooney: 6-10, PR, P, P1
No. 2 Arizona (1)
Azuolas Tubelis: 6-11, Junior, C, P2
No. 3 Baylor (3)
Keyonte George: 6-3, FR, G, lottery
LJ Cryer: 6-1, Junior, D, P2
Adam Flagler: 6-3, RS-SR, G, R2
No. 4 Virginia (1)
Rhys Beekman: 6-3, Junior, D, R1
No. 6 Creighton (4)
Trey Alexander: 6-4, SO, G, R2
Ryan Kalkbrenner: 7-1, Junior, C, P2
Arthur Kaluma: 6-7, SO, F, R2
Baylor Scheierman: 6-7, PS, V, P2
No. 7 Missouri (1)
Kobe Brown: 6-8, PR, P, P2
No. 8 Maryland (1)
Hakim Hart: 6-8, PS, V, P2
No. 11 NC State (1)
Terquavion Smith: 6-4, TN, G, R1
Eastern region
No. 1 Perdue (1)
Zach Edie: 7-4, PS, K, P2
No. 2 Marquette (2)
Very Igodaro: 6-9, Junior, H/F, R2
Olivier-Maxence Prosper: 6-8, JR, F, R2
No. 3 Kansas State (1)
Keyonte Johnson: 6-6, PR, P, P2
No. 4 Tennessee (1)
Julian Phillips: 6-7, PR, W, R1
No. 5 Duke (5)
Kyle Filipovsky: 7-0, France, P/C. Lottery
Derek Lively: 7-1,FR,C,R1
Daric Whitehead: 6-7, PR, P, P1
Mark Mitchell: 6-8, CR, R/C, R2
Tyrese Proctor: 6-5, PR, G, P2
No. 6 Kentucky (3)
Cason Wallace: 6-4, FR, G, lottery
Chris Livingston: 6-6, PR, W, R2
Oscar Chibwe: 6-9, PR, C, P2
No. 10 USC (2)
Boogie Ellis: 6-3, PR, G, P2
Drew Peterson: 6-9, GR, F, P2
No. 11 Providence (1)
Bryce Hopkins: 6-7, TK, W, R2
No. 12 Oral Roberts (1)
Max Abrams: 6-0, SR, G, R2
Midwest
No. 1 Houston (2)
Jaras Walker: 6-8, Fri, P, Lottery
Markus Sasser: 6-2, PS, D, R1
No. 2 Texas (1)
Dillon Mitchell: 6-8, PR, P, P1
No. 3 Xavier (2)
Colby Jones: 6-6, Junior, F/G, R1
Suli Boom: 6-3, GR, G, R2
No. 4 Indiana (2)
Jalen Hood-Scyfino: 6-6, FR, G, lottery
Trace Jackson-Davies: 6-9, PR, C, R1
No. 5 Miami (1)
Isaiah Wong: 6-4, PR, G, P2
No. 8 Iowa (1)
Chris Murray: 6-8, Junior, F, R1
No. 9 Auburn (1)
John Broome: 6-10, Junior, C, R2
No. 10 Penn State (1)
Jalen Pickett: 6-4, PS, V, P2
No. 12 Drake (1)
Tucker Devries: 6-7, TK, W, R2
Western region
No. 1 Kansas (3)
Grady Dick: 6-7, Fri, W, Lottery
Jalen Wilson: 6-8, RS-JR, F, R1
Kevin McCallar: 6-6, RS-SR, W, R2
No. 2 UCLA (4)
Jaime Jaques: 6-7, PR, W, R1
Amari Bailey: 6-5, OL, G, R2
Jaylen Clark: 6-5, JR, G/W, R2 (INJURED)
Adem Bona – I'm Not Afraid (Official Music Video): 6-9, PR, C, R2
No. 3 Gonzaga (2)
Julian Strother: 6-7, Junior, Tue, P1
Drew Timm: 6-9, PR, H/F, R2
No. 4 Connecticut (2)
Jordan Hawkins: 6-5, TN, G, R1
Andre Jackson: 6-6, SO, F, P2
No. 6 TCU (1)
Mike Miles

Junior: 6-2, Junior, PG, R2
Good 8 Arkansas (5)
Anthony Black: 6-7, FR, G, lottery
Nick Smith: 6-4, FR, G, lottery
Trevon Brazil: 6-10, SO, S/F, R2
Ricky Council IV: 6-6, Junior, F/G, R2
Jordan Walsh: 6-7, PR, W, R2
No. 9 Illinois (2)
Coleman Hawkins: 6-10, Junior, F, R1
Terrence Shannon: 6-6, PR, W, R1


Source: 247sports.com